Luck of the Draw by Kate Clayborn is the second romance in her Chance of a Lifetime series. The first story,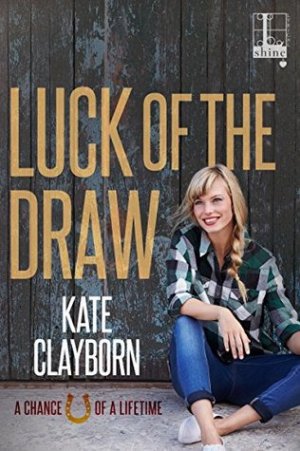 Beginner's Luck, was on my best of 2017 list and I was highly anticipating this one. It was just as good as I'd hoped!
When three friends win a lottery prize together, they have to make some serious choices about what to do with the money.For Zoe Ferris, quitting her job as a cutthroat attorney is the first step. She says she want to take some vacation time off to plan a trip yet she finds herself stuck. She's unable to move forward, paralyzed by guilt for a number of things, including the last case she had before she quit. She makes a 'guilt' jar, putting pieces of paper with names of all the people she believes she's wronged and with whom she wants to make amends. As luck would have it, the first names she draws from the jar are the parents from her last case, that of a young man killed in a drug overdose for whom she had negotiated a cash settlement in a wrongful death suit. Mentally steeling herself, she heads to the address, encounters the son and brother of the young man who died – and promptly faints in his driveway.
Aiden O'Leary doesn't know what to make of the lawyer who shows up on his doorstep except that she's beautiful, and suddenly in need of medical help. A paramedic, he gets her back on her feet and when she awkwardly tries to offer to atone for what happened with his brother Aaron, Aiden knows just how she can do it. A summer camp that he and Aaron went to as boys is up for sale, and he wants to make a presentation to purchase it from the owners, long time family friends, to develop it as an addictions treatment center. But the owners are looking for a family to take over. He wants Zoe to pretend to be his fiancee, spend several weekends at the camp and help him sell the idea of his proposal. Zoe agrees, and despite an awkward and almost hostile start, they come to a truce.
Then things get more complicated because neither wants to deny the attraction simmering between them, even though getting involved is the last thing they should do. The heart and the mind don't always agree though, and a heated affair ensues. As their time together ticks away, painful truths and confidences are shared, and a true friendship develops along with stronger feelings. But when their secret engagement is found out to be a lie, will it spell the end of something that was just becoming a lifeline for them both?
Emotional, heartwarming, and full of laughs and tears, Luck of the Draw is a compelling romance. From the first page I was drawn into this story of guilt, forgiveness and redemption. Zoe made mistakes when she was younger, and she is afraid of making those mistakes again. Coming into a decent amount of money makes her wary of making decisions too fast, to the point that she can't make any at all. Aiden's proposal, that she help him out with his camp presentation by pretending to be his partner is the impetus she needs to push herself forward.
Similarly, Zoe helps Aiden to look at the relationship he had with his brother Aaron and come to terms with the guilt he feels for not being able to prevent his death. It's a slow realization that takes place over the course of their time together at the camp, Zoe's willingness not to shy away from tough issues giving him the kick he needs to face things head on. He still makes mistakes but becomes a man able to forgive and accept things as they are. When they are unable to resist the attraction to each other they make a pact that they will keep sex separate from the rest of what's going on around them, and they share several sexy and emotional love scenes. When that spills over into their time back home, it seems like they might be able to find something for themselves, until everything goes awry. It takes courage on both their parts to fix what's broken and make it into something newer, stronger, and worth keeping.
The other aspect of the story I really enjoyed is the friendship between Zoe and her two best friends and fellow lottery winners, Kit and Greer. Zoe realizes that she's been holding back from them, not giving them the same commitment to their friendship that they've given her. Her time with Aiden helps her see that she can open up to them and reveal her insecurities and that they will accept her as she is. Similarly, Aiden has two co-workers, Charlie (female) and Ahmed with whom his relationship at first is one of a more silent partner. As he reveals more of himself to Zoe, he also becomes better at being a friend to them and letting them in.
Luck of the Draw has lighthearted moments to balance the emotional ones, though readers shouldn't be surprised to find themselves shedding a few tears too. The author draws you into a complex world navigating grief, friendship and love in a page turning and thoroughly enjoyable read. I highly recommend both Beginner's Luck (Kit's story) and Luck of the Draw and I'm looking forward to reading Greer's story next!
Book Info:

Publication: Apr 24, 2018 | Lyrical Shine | Chance of a Lifetime #2
Buying a lotto ticket with her two best friends didn't change Zoe's life. Only following her heart would do that…
Sure, winning the lottery allows Zoe Ferris to quit her job as a cutthroat corporate attorney, but no amount of cash will clear her conscience about the way her firm treated the O'Leary family in a wrongful death case. So she sets out to make things right, only to find gruff, grieving Aiden O'Leary doesn't need—or want—her apology. He does, however, need something else from her. Something Zoe is more than willing to give, if only to ease the pain in her heart, a sorrow she sees mirrored in his eyes…
Aiden doesn't know what possesses him to ask his family's enemy to be his fake fiancée. But he needs a bride if he hopes to be the winning bid on the campground he wants to purchase as part of his beloved brother's legacy. Skilled in the art of deception, the cool beauty certainly fits the bill. Only Aiden didn't expect all the humor and heart Zoe brings to their partnership—or the desire that runs deep between them. Now he's struggling with his own dark truth—that he's falling for the very woman he vowed never to forgive.