Her Last Word by Mary Burton: It's 2004. A drunken Gina Mason is grabbed off the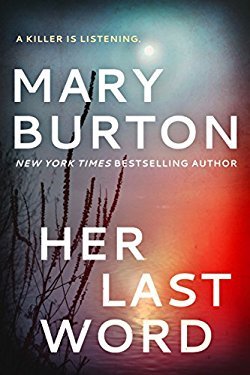 road where she is walking with her cousin, Kaitlin Roe, who is also drunk. They are returning home after a graduation celebration party at a favorite beach hangout. The abductor is wearing a scary clown mask. He yells at Kaitlin, "Run or I'll kill you." She runs.
Fourteen years later Kaitlin decides to do a podcast to try to figure out what happened to her cousin Gina all those years ago. It's a cold case. The police rarely spend much time and energy on a cold case. Unfortunately they will have to now. Kaitlin's podcast project has stirred the pot. People are dying. Why now? Who is the murderer and why kill these people?
Author Mary Burton is one of my all-time favorite romantic suspense authors. She has an uncanny ability to draw you in and keep you in suspense in such a way you just can't put her book down. She crafts characters so well you can easily identify with them. Her villians scream "evil" when you read about them. They just "get" to you. Her plots are always very smooth and Her Last Word is a perfect example of this. I never get lost or confused while reading this author's books. In addition her police procedures are so authentic. I especially appreciated in this story the inside peek of the state forensic department which gave me a good idea of all the latest forensic tests and abilities.
Mary Burton is a "Must-Read" for me. This story captivated me and I can't wait until I get my next adventure with Mary Burton.

Book Info:

Publication: May 8th 2018  | Montlake Romance |
An unsolved crime pits a desperate woman against a relentless killer in New York Times bestselling author Mary Burton's heart-stopping novel of psychological suspense…
Fourteen years ago, Kaitlin Roe was the lone witness to the abduction of her cousin Gina. She still remembers that lonely Virginia road. She can still see the masked stranger and hear Gina's screams. And she still suffers the guilt of running away in fear and resents being interrogated as a suspect in the immediate aftermath. Now Kaitlin has only one way to assuage the pain and nightmares—by interviewing everyone associated with the unsolved crime for a podcast that could finally bring closure to a case gone cold.
But when a woman Kaitlin questions is later found stabbed to death, she fears that she's drawn a killer out of hiding. It's Detective John Adler's fear that the murders have only just begun. Now his job is to keep Kaitlin safe. As a bond between Kaitlin and Adler builds, the past closes in just as fast—and it's darker than Kaitlin remembers. Soon, her wish will come true. She's going to find out exactly what happened to Gina. Someone has been dying to tell her.