Designs on Forever by Susan Carlisle: Mallory Andrew's height and beauty gave her success as a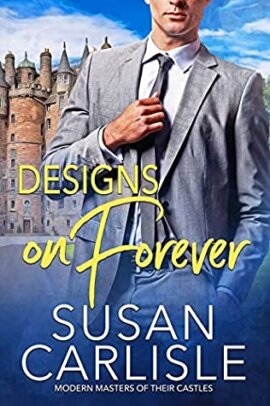 model for a long time. Nowadays, she is in business with two good friends as a historical interior designer. In her current project she has moved to England to restore an old manor house and turn it into a luxury one of a kind hotel. Things are going according to schedule until Evan Townsend shows up. The board of his estranged grandmother's company has called on Evan to investigate the work being done on the hotel that they fear will cause bankruptcy.
Evan had branched out on his own quite a few years ago and has become very successful with a chain of hotels that are affordable. He is all about profits and numbers and is appalled when he starts going over accounts with Mallory. He wants to shut down all further renovations, but Mallory talks him into accepting some shipments that can't be returned and giving her a little more time.
Although Evan is English and Mallory is American, they deal with universal problems and feelings. The author reveals the backgrounds that have shaped them. Their romance is one of passion and a certain amount of distrust as each worries that their sexual attraction may be an attempt to win the other over.
The descriptions of the manor house and the furnishings sound lovely and make you want to visit. Of course, most of us avid readers would need a huge library to complete the picture.
Find your own comfy place and spend some time relaxing with Designs on Forever.
Book Info:

Publication: September 1, 2020 | Independent | Modern Masters of Their Castles #2
As a model, Mallory Andrews' good looks had worked for her for years, but now she's determined to prove she's a talented historical interior designer. To do that she must remain unwavering in her focus regarding her current project, the restoration of a historical English manor house turned hotel. The problem is, she keeps getting sidetracked by the handsome and charming grandson of the owner.
Renowned hotel magnate and business consultant, Evan Townsend is retained by the board of his estranged grandmother's company to make recommendations regarding the failing hotel that could put his grandmother into bankruptcy. His first chore is to terminate the work Mallory is doing. She launches a campaign to prove the changes she has made and others she has planned will benefit his grandmother's financial bottom line. Evan's mounting attraction to the beautiful and clever Mallory has him reconsidering his stance on her present work, yet he remains resistant to her requests not to sell the hotel so her work can continue. If only he could be as unaffected by her kisses.
Both fear the other is using the sexual magnetism between them to get what they want. Can Mallory and Evan design a way to break through the walls of half-truths and what-ifs to build a lifetime of love?