Smokin' Hot Cowboy Christmas by Kim Redford is the seventh book in her Smokin' Hot Cowboys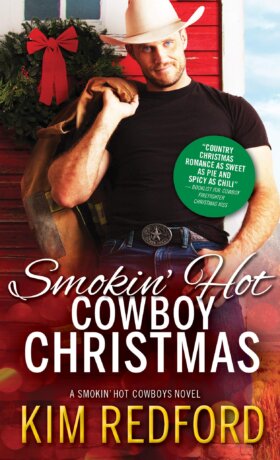 series. The Buick Brigade strikes again! There's no stopping them.
Belle Tarleton has moved into the family ranch in Wildcat Bluff. She has lots of plans for the place. As CEO of the Lulabelle & You Company she has decided to throw a Christmas party at the ranch and envisions the event to double as an introduction to buyers and the media to her newly-named Lulabelle & You Ranch. She wanted to spruce up the ranch house for the party, but progress has been slow. Actually progress has been nonexistent. The new roof shingles, gutters and paint supplies are scattered on her front lawn. She hadn't been able to find anyone to do the work – until Rowdy arrived. Rowdy was one hot cowboy! He insisted he was more than capable of doing what needed to be done. Thank goodness. Yes, she wanted to use the ranch for promoting her business but she also wanted it to be a place to support different creative arts. There's only six weeks 'til Christmas and lots needs to get done. Belle knew she had to tamp down her attraction to Rowdy and get down to business. Which, as things turns out, also includes the Buick Brigade's business.
Bert Two "Rowdy" Holloway, also known as the unluckiest cowboy in the county experienced his typical bad luck again. He drew the short straw in the county locals' plan to discourage Belle Tarleton enough in her plans so she would want to leave Wildcat Bluff County. They thought her business would bring too much traffic and outsiders to their quiet county. In addition to being one of the county's volunteer firefighters and ranch owner with his dad, Rowdy was quite skilled with construction and woodworking. But his job here at Belle's ranch was to stall and delay getting the work she needed done. This was not sitting well with him. As time went on Rowdy felt worse and worse. He was falling for Belle and knew the deception had to stop. Will Belle forgive him?
This series takes place in a small county in West Texas. Usually the people all work together there to the benefit of all. Not really knowing all of Belle's plans they assume the worst. I was happy to see that my faith in these characters wasn't in vain. The whole group finally saw that they were wrong. You would think they would have realized their error sooner when the Buick Brigade welcomed Belle. The Buick Brigade is comprised of four elderly ladies who no one in the area wants to upset because they are so highly respected. I enjoyed the Buick Brigade's antics and their means of communication. Carrier pigeons – only in Wildcat Bluff County!
Book Info:

Publication: September 29th 2020 | Sourcebooks Casablanca | Smokin' Hot Cowboys #7
Have yourself a Smokin' Hot Cowboy Christmas
It's been one fiasco after another for newcomer Belle Tarleton since she began trying to turn her ranch into an arts center. Local workers seem determined to ruin her Christmas party plans, and she hopes bringing in down-on-his-luck Rowdy Holloway to help with renovations will get things back on track.
Rowdy is the unluckiest cowboy in the whole of Wildcat Bluff County, Texas, and things are not improving this holiday season. Sure, he's the object of many local women's drool-worthy fantasies, but the town has decided he's the man who should stop Belle's renovation plans.
It started as a simple mission, but now Rowdy's so twisted up he doesn't know whose side he's on. With only days until Christmas, Rowdy and Belle need to tap into their fiery personalities and off-the-charts chemistry if they're ever going to find a way to thaw the ice on this reluctant town's heart.