Desire After Dark by Marie Force: Erin tragically lost her twin brother on 9/11 and she hasn't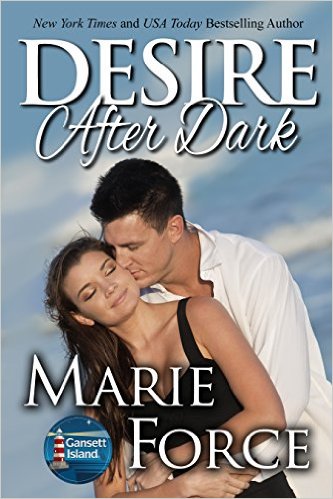 been the same since. She's really struggled to pull herself together and find a way to constructively deal with her loss. She's been making progress and moving to Gansett Island has helped. She's made some great friends and she enjoys living in the lighthouse. She's also found a new man in the sexy, charming pilot, Slim.
Slim enjoys being single and not attached to any one woman. He loves his life of living on the island in the summer and living in Florida during the winter months. When he met Erin all those months ago, he knew she was different. They've been keeping in regular contact and he's looking forward to his break over the holidays so he can see Erin again.
"I knew you were going to be big trouble the night I picked you up by the side of the road."
Erin smacked his shoulder. "Don't say that like I was a hooker on the prowl or something."
His laughter rocked his big body. "So I shouldn't have told my mom that's how I met you?"
Erin has closely guarded her heart out of fear of having it broken again. She's also refused to get on a plane since she lost her brother, which creates a bit of a problem when she's dating a pilot who spends half of his time in Florida every year. Slim and Erin have great chemistry and they've gotten to know each other pretty well during their months apart. They quickly find a rhythm together and are making the most of Slim's time over the holidays.
"I haven't had a boyfriend in a long, long time. I might need a refresher course on what's involved."
"You're in luck. I'm a certified instructor."
"Certified in what exactly?"
"Well, technically pilot training, but a lot of the skills are transferable to this situation."
Desire After Dark is emotional, heartwarming, and sexy. Marie Force created two characters that just fit together. Ms. Force included plenty of humor and banter to balance out the more emotional aspects. Desire After Dark can be read as a standalone, but also allows fans of the series to catch up with the characters and couples from the previous books. Fans of Kimberly Lang and LuAnn McLane will enjoy Desire After Dark.
Book Info:

Publication: May 23rd 2016 |  The McCarthys of Gansett Island #14
Tobias "Slim" Jackson has the perfect life as a pilot on Gansett Island in the summer and in Florida in the winter. He's happiest when he's in the air, or at least that was the case before last summer when he met Erin Barton, Gansett Island's newest lighthouse keeper. Now he can't seem to find his usual enthusiasm for flying, winter in the sunny South or anything that doesn't include her.
Erin has been stuck on pause since she lost her twin brother. She'll tell you herself that her life has been a hot mess since Toby died. After dropping out of law school, she's flitted from one pointless job to another, existing rather than truly living. Then she comes to Gansett Island to take over as the new lighthouse keeper and meets Slim, who happens to share her beloved brother's first name. That small coincidence is enough to convince Erin that she needs to spend more time with the dashing pilot—except for the fact that he's spending the winter more than a thousand miles from her.
Now Slim's come home to Gansett for the holidays and to hopefully pick up where he left off with Erin. He's got twelve days before he's due back in Florida to finish out the remainder of his winter obligations. A lot can happen in twelve days, but will it be enough to convince Erin that it's time to start truly living again? Read Slim and Erin's story and catch up with the rest of the Gansett Island cast in Desire After Dark!