Never Let Go by Allison B. Hanson Riley Fisher is a lonely single mother to two year old Luca.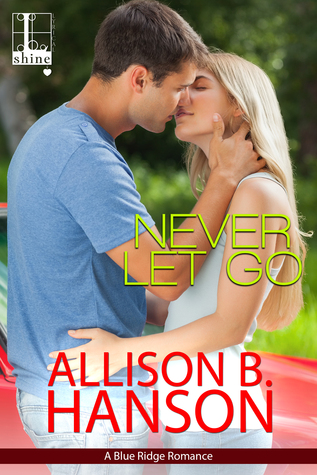 Working two jobs because Luca's father, Evan, helps out as little as possible, Riley has no time for a relationship. When Sam Brooks walks into the jewelry store she works at, she's immediately attracted to him. When he asks her out she accepts, knowing that nothing more could come of it.
Sam has his own issues. Returning from Afghanistan, he suffers from PTSD from what happened to his unit over there. Suffering from nightmares, he knows he shouldn't get involved in a relationship, yet he can't stay away from Riley. At first Riley hides Luca's existence from him, fearing that a man wouldn't want a woman with a young child. Once Sam meets him, however, he becomes instantly attached to the little boy. Despite his anger towards Riley for keeping this piece of information from him, he begins to wonder if maybe, just maybe, he can have the family he never thought possible.
The story started out a little slow and I had a hard time getting into it, but I'm glad I stuck with it. Both Sam and Riley are both hurting and yet they find a way to help each other. Luca also helps Sam in his healing, and an injury to the little boy leads Sam to take steps necessary to make peace with his past. Riley lived in constant fear that her ex would try to take Luca from her; I loved how Sam handled the whole situation, ensuring that Riley would never have to worry about it again.
This is the third book in the series. Characters from the previous books do make an appearance in this one. Even though it might be better if you've read the previous books first, it's not necessarily a requirement. The storyline itself is completely separate and works as a standalone, but for information about the other characters you would need to read the previous books.
If you enjoy stories about people two people learning to love again and move on from their pasts, and enjoy stories featuring an adorable two year old, you might want to give this one a try.
Book Info:

Publication: May 24th, 2016 | Lyrical Shine | A Blue Ridge Romance #3
Riley Fisher doesn't have time to chase after men. As a single mother working two jobs, she barely has time to eat or sleep. But a girl has needs. So when handsome veteran Sam Brooks asks her out, she decides she deserves some R&R. She doesn't expect anything else from him—after all, he's hardly the type to get serious.
Sam came back from Afghanistan lucky to be alive, despite PTSD that hits whenever he lets down his guard. His therapist told him to forget about relationships. When he meets Riley, he's not planning on breaking the rules. She's cute, petite, and a total smartass—not even his type. But she's hard to forget. Especially once he runs into Riley and her toddler on a rustic mountain getaway and sees what he's missing. Her kid makes him laugh all day. And Riley makes him burn all night.
Too bad a relationship is impossible. But they can enjoy the attraction. It's not like they're going to fall in love…