Desire Lines by Elizabeth Kingston is a compelling and page turning medieval romance, set during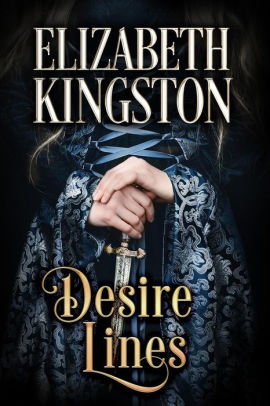 the turbulent times of post Welsh rebellion under King Edward the 1st.
Gryff has spent years on the run, ever since his father joined the last of the Welsh rebels who were soundly defeated and whose heirs were summarily executed. Hiding his Welsh heritage, particularly that he is a Prince of a small but important holding that raises prized hunting birds is paramount to his survival. When the abbey he had holed up in suffers a disastrous fire, he flees with the monks who've been protecting him, only to be captured by a band of thieves. Staked to a tree, he fears the worst for the traveling party who are set upon by the thieves as he watches, unable to do anything to stop the slaughter.
But to his immense surprise, a woman in the party turns the tables on the thieves. Her fighting skills are remarkable and suddenly he finds the bandits killed off, and himself set free. The woman, Nan, communicates by gestures and expressions and at first he thinks she is mute. But it turns out she is just frugal with her words, speaking only when necessary, though she makes it clear that she will be no man's pawn or plaything. Nan is on a mission to Lincoln to find her sister, and Gryff, who pretends to be a simple Welshman of no consequence, joins her. As they travel together they indulge in a mutual attraction that lets them forget, at least for a short time, their pasts and what the future might bring. But when Gryff's true heritage is revealed, will it spell the end of their passionate affair?
Fans of medieval romance would be remiss not to have the entire Welsh Blades series on their must-read shelf and this latest entry is another deep dive into the lives of commoners and royals alike in a quest to survive daily life in uncertain and dangerous times. From serving girl to fearsome protector, Nan is an enigma. Saving Gryff's life, this unlikely couple journeys together in a unique 'road trip' across the English countryside. There are several secondary characters, ones who have been introduced in previous entries in the series who make cameo appearances, but the story still stands alone well for new readers.
There are no guarantees in this romance except for that all important HEA, but it doesn't come easily. Nan and Gryff face external threats to their happiness (and mortality) from all sides. The research that has gone into writing this series is exceptional, and more than once I found myself heading to Wikipedia to read up on some of the real historical characters introduced. Exciting, intense, emotional, dramatic and with a heart wrenching 'black moment' that leads to an epic grovel and pledge of devotion and love, Desire Lines is a keeper.

Book Info:

Publication: Mar 21, 2019 | Self Published | Welsh Blades #3
All he ever wanted was to go home.
Leaving his life as a noble hostage behind him, Gryff has fled from one danger to another, never safe, always longing for a forbidden return to his conquered Welsh homeland. Held captive by villainous men, his unlikely savior is the most beautiful woman he's ever seen – and the most deadly. Her silence is unnerving, her generosity unexpected, and her pointed warning that she will not be an object of lust is perfectly clear.
Nan has no doubt the ragged Welshman she has saved from certain death was born to better things, far different from the servant's life she's led. Though the last thing she wants is a companion on her journey to find her cherished sister, she is compelled to help the man with haunted eyes and a mysterious past. But she feels the pull of his fascination every instant, and her own unexpected desire soon takes them places neither could have foreseen.