In Snowfall on Cedar Trail by Annie Rains, single mother Halona Locklear is dealing with a lot. Her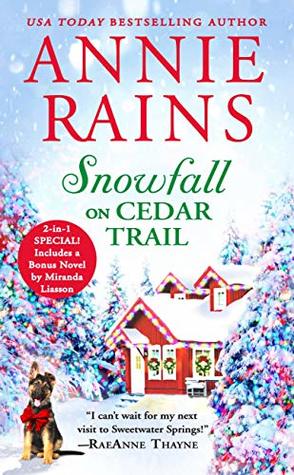 StaceyStaceyseven-year old son, Theo, stopped speaking after his father's death. The only time she hears him speak is when he cries out in his nightmares. She enrolls him in a mentor program, and he's assigned to Alex Baker, the police chief of Sweetwater Springs, a long-time friend of Halona's brother, and her former childhood crush.
Alex is trying to uncover who murdered his father, but he makes time for Halona and Theo, as he's been interested in Halona for as long as he can remember. Years earlier, Alex arrested Halona's husband, believing he abused her. He doesn't know the truth, and Halona intends to keep it that way. But as the pair grow closer, and Theo becomes attached to Alex, will Halona be able to confide in him, and will Alex finally figure out who killed his father?
What a wonderful story. Set around Christmas time, readers will be rooting for a Christmas miracle to happen to get Theo to speak again. The poor kid is dealing with what happened between his parents, along with the death of his father, in the only way he can. I liked how Alex was patient and understanding with him, and how he even took the time to read up on Theo's condition so he could understand it better.
Alex and Halona were great together. They both had feelings for each other for a while, so no one's really surprised when they finally decided to act on it. Even Halona's brother keeps encouraging them to get together.
I liked that there was a little mystery thrown into the story, in regards to the search for the killer of Alex's father. Readers will root for him to get some closure and justice for his father so he can finally move on and be happy.
Snowfall on Cedar Trail is a heartwarming romance filled with the spirit of the holiday season. Well-written with characters that will capture your heart, it's one fans of small-town romances won't want to miss.

Book Info:

Publication: October 8, 2019 | Forever | Sweetwater Springs #3
ast Christmas was tough for Halona Locklear and her seven-year-old son Theo, who hasn't spoken a word since his father's death. This year, Halona wants nothing more than to give him a good holiday and to hear his sweet voice again. Enrolling him in the Mentor Match program might help, but when Theo gets matched with Sweetwater Springs Chief of Police, Alex Baker, Halona realizes that the handsome hero might know secrets about her past that she is determined to keep buried.
Chief of Police, Alex Baker, re-opens his father's hit-and-run cold case every December, hoping to finally solve it. This year, his plate is full with being a Mentor Match to a young seven-year-old boy as well. His biggest obstacle, however, is fighting his attraction to the boy's mother, Halona. As Alex gets close to solving his father's cold case, he learns that those closest to him may be in danger — including Halona. Alex has already lost one of the most important people in his life; he isn't about to lose her too, even if it means walking away to keep her safe.