In Desolation Road (Torpedo Ink #4) by Christine Feehan, A library probably seems an unlikely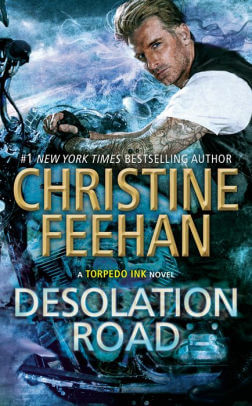 place for the world-weary member of a motorcycle club to hang out, but a tidal wave wouldn't even be able to move Aleksei "Absinthe" Solokov from the building. That's because as much as libraries–and books in general–are his solace, the absolutely gorgeous librarian, Scarlet Foley, calms him like no one else ever has. And that's a big draw for Absinthe. Given the pain and suffering he and his fellow Torpedo Ink brothers and sisters went through before fleeing Russia, anything that gives him peace is worth the cost. But it looks like Scarlet has some secrets of her own–which could make a relationship with his ledi that much more difficult.
'He could barely look at himself in the mirror. Most of the time he couldn't. The demons in his head roared, threatening to swallow him.'
Scarlet has to be careful around people and always be aware of her surroundings thanks to an event that changed her life almost a decade ago. She's been hyper-focused on her plan and hasn't let anyone break down the walls she's built up around her heart. Until Absinthe appears, night after night, in the library. Muscled, tattooed, obviously brilliant, and very perceptive, he's the type of guy Scarlet should avoid. But there's something she can't explain drawing her to Absinthe. It's like they have a bond forged between them–one that could lead to trouble finding not only her but him as well. And that's a chance Scarlet doesn't want to take. Although once she learns more about Absinthe's MC and his past, it seems like maybe he could be strong enough to walk her path with her after all.
'She was always afraid no one really wanted her, but Absinthe seemed hell-bent on making her truly his no matter what baggage she brought with her.'
Desolation Road was Christine Feehan's latest exciting Torpedo Ink novel that was equal parts gut-wrenching and inspiring. Add in a heaping dash of action–and sexy romance, of course–and you've got yourself a book that was unputdownable.
"For me, you're just a plain fucking miracle. Moya literaturnaya ledi, and you always will be. You're perfect. The sun rises and sets with you."
First off, I didn't bother with a trigger warning because fans of Feehan's work will already know that this series deals with severe trauma, PTSD, and every type of abuse imaginable. That's why the members of Torpedo Ink formed the MC, to combat such evil people in the world. And unfortunately in this story, both the hero *and* the heroine were still haunted greatly by their pasts and the horrors they suffered. So in other words, this will likely not be the book for readers who are sensitive to detailed accounts of trauma and abuse.
Absinthe has interested me since he was introduced early on in the series. I won't get into what his "gifts" are–all members of Torpedo Ink have psychic talents–but it was something that was a help to his brothers and sisters but a hindrance to Absinthe. I really enjoyed that his relationship with his smoking hot librarian, Scarlet, was pretty evenly matched. She was highly intelligent just like he was and they each could take care of themselves physically if they ran into trouble. Scarlet was actually quite a kickass heroine with a backbone made of pure steel. It was fun to see how she challenged Absinthe. But they were there for each other when the demons crept in, supporting and pulling one another back from the edge of grief, guilt, and terrible memories.
I should forewarn that like with the other books so far in Torpedo Ink, our hero had his own unique proclivities when it came to the bedroom. It was very kinky and while it wasn't my cup of tea, I could understand why Absinthe needed things to be a certain way, given his past. It made his love scenes with Scarlet quite intense and might be a bit much for some readers.
With every new installment in the Torpedo Ink series, Christine Feehan keeps increasing the stakes as well as adding more layers to an already intricate overarching storyline. And with the addition of a new character with ties to the MC's past, it seems things will only be getting even more interesting.
Book Info:

Publication:  July 7th 2020 | Berkley | Torpedo Ink #4
Take the ride of your life with the Torpedo Ink motorcycle club in this thrilling romance novel from #1 New York Times bestselling author Christine Feehan.
Torpedo Ink is Aleksei "Absinthe" Solokov's whole life. They're his brothers, his family—his everything. But that doesn't stop him from wanting something that only belongs to him. That's why the tough biker has spent the last six weeks at the library, reading every book he can get his hands on and watching the prim and proper librarian who makes his blood rush.
For the past six weeks, Scarlet Foley has been fantasizing about the handsome, tattooed man whose eyes follow her every move. She senses he's dangerous. She wants him to get close enough to touch. She wishes she could let him know the real woman, not the one she pretends to be. But Scarlet has a plan to carry out, and she can't afford any distractions.
Absinthe is well aware that Scarlet is hiding something. She's a puzzle he intends to solve, piece by intoxicating piece….