Desperately Seeking Heaven by Jill Steeples: I have to begin with I Absolutely LOVED this book and it has become one of my favorites. When I first started reading it I was wondering what was really going on, but as I read along I found it really sweet, funny, heartbreaking but uplifting at the same time.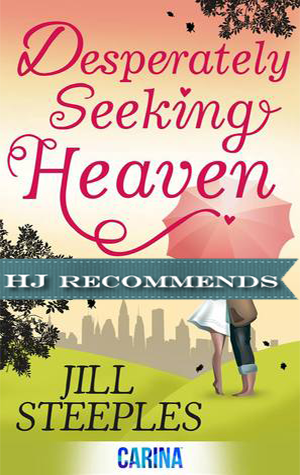 In Desperately Seeking Heaven by Jill Steeples, Alice Fletcher is awaiting the day at work as a PA to come to an end. She is looking forward to resting, watching the TV and drinking some wine to relax for the weekend. Yes it is Friday the 13th and things have been going a bit weird that day, but she hopes to have a nice weekend. Only on her way home something feels off, everything in the countryside is too quiet and there are no cars anywhere. Then all of a sudden her car skids and she thinks she may had an accident, only to stop and see a car has already had an accident and there is a person on the side of the road. She believes him to be injured but she needs to see if he needs help.
As she approaches him she is surprised by how handsome he is and there seems to be no injuries on him, she wants to call the police to inform them of the accident, but he tells her they have already been there and left. So she offers him a ride home, only he asks her if he can go to her place instead. She is scared at first, until she realizes that he is Jimmy Mack, a famous presenter and celebrity. Now she can't wait to help him out maybe she can get her five minutes of fame.
But as she is preparing a light meal for them while he decides to head home, she hears the news on the TV about the death of Jimmy Mack! But he is right there with her, how can he be dead? Well, he soon explains to her that he is indeed dead, but for some reason he is tangible and completely visible to her, and suggest that maybe she is to help him find or do something he left undone so he could move on.
The next day she wakes up thinking that she must have been dreaming, only to see him sleeping in her guest bedroom, when her sister arrives. Only her sister thinks that maybe Alice has finally had a one-night stand with someone and when she searches the whole apartment she finds no one. So now Alice knows for sure only she can see Jimmy, even while he parades in just a towel and eats all her food.
As Alice tries to find the solution to Jimmy's problem and help him onto the other side, she soon finds herself missing talking to him while at work. She also cannot wait to get home to one of his home cooked meals and a nice cup of tea. But living together will bring feelings in them both that cannot be turned into reality no matter how tangible he is to her.
Now Alice and Jimmy will have to figure out what to do so he can move on onto "the other side" while he also tries to encourage her to go out and date, even if it does get him completely jealous that he has to leave immediately. But with just one thought either of her, or from her about him, he will be there next to her to comfort, rescue or whatever is necessary to keep her happy and safe. But heir time is limited and they will have to find the closure necessary before he must move on.
This book reminded me a little of Freudian Slip by Erica Orloff, which was my first ghost and human romance read. They are different though, because in this one Jimmy is definitely dead and his feelings for Alice cannot become a reality no matter what. But the way that him and Alice go about their daily lives while living together is so fun and sweet. Jimmy's mischievous ways brought a smile or a laugh to the surface each and every time. When Alice's sister trying to help Alice while not being able to see Jimmy is really fun because in order to prove that he is there he touches her or moves things which just freaks her out a lot. And when he starts eating the food on the table (yeah I know a ghost that eats food?) it just too funny what Alice will do to cover it up while in public and her sister's reaction as the food disappears into thin air.
If you like a fun, sweet, heartwarming and heartbreaking romance with a different plot that you don't often see, don't miss Desperately Seeking Heaven by Jill Steeples.
Book Info:

August 27th 2013 by Carina UK
Love always comes when you least expect it, at least that's what PA Alice Fletcher tells herself as she looks forward to another Friday night of trash telly and wine-for-one.
But what happens when the unexpected is daytime TV crush Jimmy Mack, and he's sitting on your couch watching the news… of the accident that claimed his life?
Soon, Alice finds her ordered life turned upside down by helping Jimmy cross over to the 'other side'.
But most unexpected of all is Alice's growing realisation that her gorgeous ghost has taken up residence in her heart as well as in her home.