In Wedding Belles by Beth Albright, It's a good thing Blake O'Hara Heart dearly loves her best friend Vivi Ann McFadden, considering the chaos she's enduring to create the wedding of Vivi's dreams. Vivi is finally tying the knot with her longtime love, and baby daddy, Lewis Heart in their hometown of Tuscaloosa, Alabama. But of course nothing can be simple. Ever. From the moment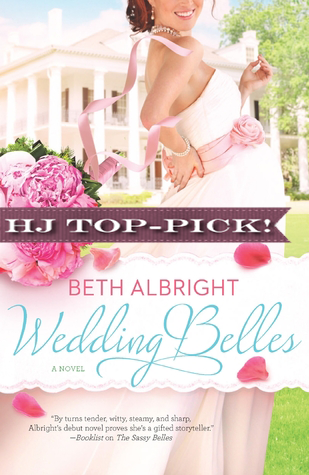 they get their marriage license the drama begins and poor Blake, being the matron of honor, has to keep everyone and everything on the straight and narrow.
'But between managing the wedding planning and an emotionally high-strung pregnant bride, I was beginning to feel like a ringmaster overseeing a three-ring circus gone wild.'
The work just never ends as Blake also has to deal with clients at her local law firm and help Lewis figure out what an estranged woman from his past really wants. In the midst of the wedding drama, she's worried about her soon-to-be-ex-husband's senatorial race and how to stay away from the hunky homicide detective she's attracted to. Throw in a psychic and meddling family members, and you've got a recipe for some Thelma & Louise type of fun and insanity.
'I was entangled by him, seduced by his way, his smell, his bare chest. I was powerless against him.'
Wedding Belles was an absolute hoot! Beth Albright has pulled me into another Sassy Belles novel and managed to not only keep me completely entertained but she also left me wanting more. (This was book two, and there is a book three, by the way…Sleigh Belles.) I love her writing style. It's full of Southern charm with witty, snappy dialogue and lots of slapstick humor. And not only is this a story about friendship and romance, but there is also a whodunnit aspect to the plot as well.
This is written from Blake's point of view again and I must say, she hasn't lost any of her sarcasm or sisterly love for her best friend Vivi. Reading about all of their trials and tribulations on their path to get Vivi and Lewis to the alter was beyond hysterical. I mean, from the Fru Fru boys planning the wedding to Harry The…er, Dog, it was laugh-out-loud fun. But I can't neglect to mention that there are also plenty of heartfelt moments mixed in with Southern traditions, a strong sense of community and love. Lots and lots of love. It is mainly about Vivi's wedding, after all. 😉
'Her eyes teared up and I could tell she was about to pitch a bridal hissy fit–which is much worse than your average hissy fit, almost indistinguishable from a full-on conniption.'
We also get to see Blake and Sonny's relationship grow and change in this installment of the Sassy Belles series. They have a complicated past, which when coupled with the current status of Blake's marriage, makes for a drama filled story. I truly enjoyed Sonny's character. I think he's portrayed well, showing his tough homicide detective side at work and his flirty, sexy side when he's with Blake. Their dialogue, in particular, was enough to make a girl swoon. Or at least need a tall glass of sweet tea!
I highly, highly recommend Wedding Belles. If you're looking for a fun contemporary romance that is a quick, enjoyable read, full of sisterhood, definitely look into this series. Now I can't wait to dig in to book three! And as the Sassy Belles motto goes: 'Be sassy, classy and a tad smart-assy.'
Book Info:

Published July 30th 2013 by Harlequin MIRA
The Sassy Belles are back
and this time, wedding bells are ringing!
Seven months pregnant and head over heels in love, Vivi Ann McFadden is busy pulling together the final details for her wedding to Lewis Heart, famous play-by-play announcer for the Crimson Tide. But with two wedding-planners-gone-wild, a psychic giving her advice, and the ceremony happening on the same day as the wildly popular Crimson Tide kickoff game, chaos reigns supreme. Luckily, maid of honor Blake O'Hara Heart is on the job. She'll tackle this wedding if it's the last thing she does!
But not everyone is cheering for the happy couple. News of the upcoming nuptials has brought Lewis's old flame back to Tuscaloosa and she's got a secret that could mean the end of Lewis's marriage before it even begins.
Sexy Southern fun with a hint of magnolia!