Dirty Bastard by Jessica Clare: Knox is the quiet, observant middle brother of the infamous Price brothers.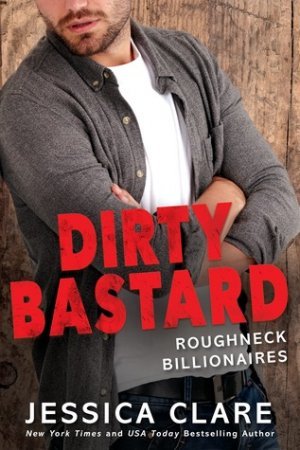 He may be a billionaire, but he's stayed true to himself with his beard, beat up jeans, washed out t-shirts, and hat. He loves to play pranks on his brothers. He could use his money to get girls, but he prefers women who want him and not just his money.
Lexi is offbeat and independent. She lives in black and runs a yoga studio. Lexi has an odd sense of humor and she tends to be very private. She is determined to make her own way despite the fact that she's broke, she's struggling to maintain a client base, she doesn't do well with people, and she doesn't fit in to her small Texas town. She's also done with men who want to control or change her.
Like his brothers, Knox knew pretty early on that Lexi was special and the one for him. Both are very observant and have an odd sense of humor. They felt the connection from the moment they met at his family's get together. He definitely plans to pursue her, but life gets in the way for a bit for them both.
"What would it take for you to go out with me?"
Go out with him? He wants to woo me despite all this? I don't understand. "Blackmail?"
Instead of being insulted, he looks thoughtful. "That'd work?"
I shrug. What else am I supposed to say? Yes, please blackmail me?
Lexi is used to being on her own and she has enough problems in her life that she doesn't need to add Knox to the mix. But Knox is persistent and shows that he can handle all the curveballs she throws his way. She's a challenge, but Knox shows just how gentlemanly, romantic, and protective he can be. They have great chemistry and just fit each other so well.
"Hello again. Back already?"
"Should I have given up?" I ask, getting to my feet. "Heard you liked a man that's as difficult as you are."
A reluctant smile touches her mouth. "You're not wrong about that kind of thing. But seriously, Knox, you don't have to do this-"
"Shh, I'm trying to figure out how to romance you."
Dirty Bastard has angst, conflict, banter, heart, and heat. Jessica Clare continues to build a strong series in these unique brothers with my favorite Price brother yet. Ms. Clare provided an entertaining cast. Dirty Bastard can be read as a standalone in the Roughneck Brothers series. Fans of Tracy Wolff and Emma Hart will enjoy Dirty Bastard.
Book Info:

Publication: Expected publication: May 15th 2018 | InterMix | Roughneck Billionaires #3
Billionaire roughneck Knox Price finds himself twisted by desire for a yoga teacher in this new romance by the New York Times bestselling author of Dirty Scoundrel.
Knox Price has always fallen short in comparison to his brothers. Boone is the ambitious one. Clay is the nice one. Gage is the handsome one. And Knox? Well, he's the cynical one. The odd man out in the ultra-wealthy but rather unique Price family. It's not that Knox hates people–it's that humanity always disappoints him. When you become an oil-rich, Texan billionaire overnight, people treat you a certain way. Just once he'd like to meet someone that isn't dazzled by his wallet.
Then, he meets struggling yoga teacher Lexi Brandon. She's weird. She's unpredictable and tends to say strange things. She lurks in the bushes and dresses in all black. She loves when people cross the street to get away from her. Lexi's definitely not his type, but she's also the first one to ever truly see him and not just another rich, dirty Price.
And that's…fascinating. But how do you catch the interest of a woman who goes out of her way to be odd? When an unexpected surprise throws them both for a loop, Knox decides it's time to get down and dirty, abandon the rules, and be who he truly is–a bastard.