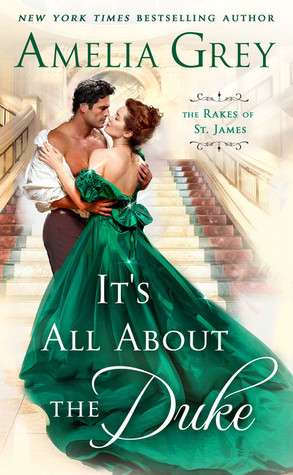 They were three young noblemen; drinking, gambling and mistresses were what their lives were all about. One night a wager was placed; how many of the twelve young ladies about to be presented for their first Season in London would agree to meet with a secret admirer? Whoever got the most positive responses would win the wager! No one would ever know what they did, or so they thought. That was before what they did was blasted all over London in all the scandal sheets so popular during that time. All three future Dukes would end up paying the piper and became known as the Rakes of St. James.
In It's All About the Duke (The Rakes of St. James #3): , the third book in author Amelia Grey's The Rakes of St. James series it is Rath, the Duke of Rathburne who meets his match and faces the consequences of his earlier deeds. The Duke of Rathburne becomes the guardian of Miss Marlena Fast when her former guardian becomes too ill to present her to Society for her first Season. Miss Fast has a secret, a very worrisome secret when she finds out who her new guardian is.
I have immensely enjoyed the previous two books in the series as well as this one. I find it extremely likeable when an author includes the characters in the previous books in the series throughout. Amelia Grey has treated her readers to some very charming characters who for me seem to have lept off the pages of the book to become familiar friends. I am very pleased that all three Rakes of St. James found true love and their "Happily Ever After."
Book Info:

Publication: May 29th 2018 | St. Martin's Paperbacks | The Rakes of St. James #3
Nearing thirty, the Duke of Rathburne is finally ready to make amends for the wager that caused him and his best friends such scandal―but taking on a ward who needs a husband is a feat he's not sure he can manage. The last he saw of Miss Marlena Fast, she was a spirited little ruffian, not the sort of bride most bachelors on the marriage mart sought. But one glance at the lovely lady she has become is enough to convince him otherwise…
Orphaned young and shuffled from family to family, Marlena counts on her fierce independence and quick wits to keep herself content. Being the responsibility of a notoriously wicked duke who upended so many lives is an unexpected challenge when she realizes he arouses her decidedly feminine desires. Marlena must be careful. She has her own scandalous secret to protect. If he finds out, will it shatter her chances of a happily-ever-after with the notorious rake?