Dirty Exes by Rachel Van Dyken: After getting burned by yet another guy, Blaire and her new bestie start a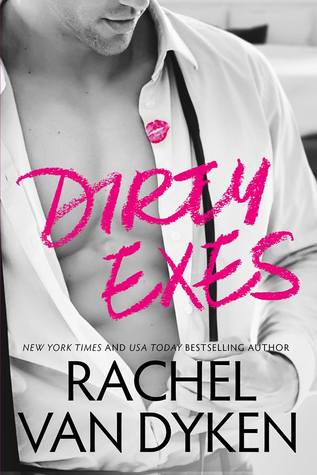 PI firm specializing in finding and exposing cheaters. Blaire is still bitter, angry, confused, and with a serious hit to her self-worth after her divorce. She's smart, determined, klutzy, and loves her whiskey. Between her past and her job, she has very little faith in men.
Jessie is now retired from his NFL career and eagerly anticipating his divorce. He now focuses on his charity work. He is still as sexy as ever, which Blaire finds very inconvenient. Their relationship ended quickly when Jessie was traded years ago, but both still remember how good things were until he left her behind. She's also the opposite of his soon-to-be-ex-wife.
Colin is sexy, charming, persistent, and Jessie's best friend. Colin and Jessie are tied together in an unexpected way and they are always there for each other. Colin has been living the life of a carefree bachelor and enjoying his many easy conquests until he meets Blaire.
"One favor."
I sighed and gritted my teeth. "Fine."
"A date," he said triumphantly. "I want a date."
"A date," I repeated in a slightly panicked voice. "Like to dinner?"
Jessie is the last guy Blaire wants to investigate, but a job is a job. She is torn between the past and the present, her own insecurities, and the butterflies that still exist when Jessie's around. Colin is a near-constant presence, single, and willing to use Blaire's investigation to get closer to her. The two men are very different and Blaire is caught in the middle between best friends and men she isn't sure she can trust, for different reasons.
"Does this mean that….I get to help you on stakeouts, Spy Girl?"
I rolled my eyes. "No. And you don't get a badge. It's a real job."
He gave me a teasing nod. "Whatever you say, just know that I'll be ready for your call the next time you get stuck."
Dirty. Messy. Complicated. Dirty Exes has angst, drama, lust, and plenty of surprises. Rachel Van Dyken created an entertaining new series with a great cast of characters and lots of banter. Ms. Van Dyken will leave you wanting more and intrigued about the next book in this series will play out. Fans of Ilsa Madden Mills and Penelope Douglas will enjoy Dirty Exes.
Book Info:

Publication: Expected publication: June 5th 2018 | Skyscape | Liars, Inc. #1
They're serving up some red-hot revenge. A sizzling series from #1 New York Times bestselling author Rachel van Dyken.
Blaire has never quite gotten over Jessie Beckett, the ex–NFL star whose kisses were hot enough to ignite the entire Eastern Seaboard. When he chose work over her, Blaire was left brokenhearted. Why else would she have married a skeezy two-timer, just to divorce him less than a year later?
Now Blaire is getting even by becoming one half of Dirty Exes, a PI firm fully committed to humiliating cheating jerks. If only the new jerk she's been hired to uncover wasn't Jessie Beckett himself.
Exposing Jessie isn't going to be easy, especially when she still daydreams about his sexy smile. Further complicating matters is Colin, Jessie's best friend. He's gorgeous, a little bit cunning, and willing to help Blaire get the inside scoop on Jessie—for a price.
Now caught between two men—one totally right and the other totally wrong—Blaire will need to decide just how much she's willing to risk…and whom she's willing to risk it for.