In The Way Back to Us (Love Unplugged #3)  by Jamie Howard, Dani Winters had no choice but to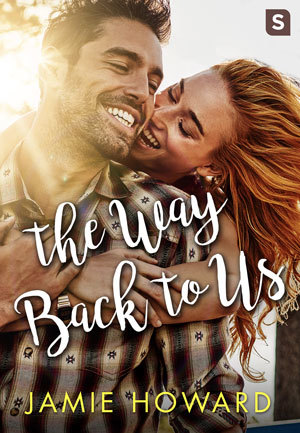 walk away from Gavin MacCormack, not unless she wanted to put his life in danger too. However, now she's back in New York and finds it's not so easy to avoid Gavin, not when he seems to show up everywhere she goes or vice versa. Neither are looking for a second chance, not when she hurt Gavin years ago and not with the danger coming after Dani, but still Gavin wants to spend time with her. Will secrets that come to light keep Dani and Gavin apart, or will they get their second chance at happy ever after once Dani discovers she's been living a lie?
"Do you two know each other?"
Dani seemed to pause, like she was waiting for me to deny it, but in the end neither of us answered him. As if to counteract my death grip on the bar, she drummed hers casually against it. "Sparkling or Flat?"
"Flat."
"You do, don't you?" Ben' chest shook with silent laughter. "I'd like to remind you that technically, technically, I'm not breaking the rules—"
"We don't," I said, my voice flat. "She's no one."=
Have you ever looked at a book cover and said to yourself 'I want to read this book?' Well, that's what happened to me with the cover of the first book of this series and ever since reading that book I have looked forward to every book since, especially this book. Because there's such hostility from the hero towards the heroine, and yet, he's still very much in love with her which is palpable in the way he acts when they first come face-to-face and then his actions in wanting to know what her deal is. Why did she leave him? What is she running from? Is Dani in trouble?
The way this story started with the prologue opened this story brilliantly, as the hero is taken by surprise and there's so much emotion that had me reading quickly, determined to discover how the hero would react to the discovery he makes. However, it was from the moment the hero and heroine come face-to-face for the first time that made this story a real page turner for me, as the heroine has a huge secret and will do anything to keep it in order to protect those she cares about. Moreover, the heroine is strong and brave with everything she goes through in this book, even though it's hard for her to continue to keep things from the hero. Will Dani ever tell Gavin the truth? I also liked that she would do anything to protect those she loves and I could understand why she did what she did to Gavin in the past to protect him, even though she hurt him badly.
"It looks like a night strung together with wishes and dreams," a voice whispered in my ear.
I twined my fingers with Gavin's. "A beautiful, magical, dream."
"Don't forget the wishes." From God knows where, he handed me a dandelion puff. "You should make one."
I gazed at it sadly. "Is it bad form to make a wish you know can't come true?"
He dropped a kiss on my shoulder. "Tonight, I think anything is possible."
While the hero, I could understand why he acts the way he does when he comes face-to-face with the heroine for the first time in this book, as it's quite a shock to deal with her re-appearance after the way she disappeared from his life. Yet, in saying that, I liked that he gave her a second chance and that he was determined to make sure she didn't leave him again, even though he knows her life is complicated in the moments when she opens up to him a little about her reason for leaving the way she did. However, what I liked most of all about the hero was that he has friends that would do anything to protect him, even though he doesn't need to be protected because Dani is the only woman he's ever loved and he would do anything to have her in his life again, even if it's for a short period of time.
Overall, Ms. Howard has delivered another really good read for this series where the chemistry between this couple was strong; the dialogue was a wonderful combination of intense moments and wonderful banter that had me hoping for the best for this pair, even though they have some really tough obstacles to overcome to be together; and the ending totally took me by surprise because of what the heroine learns about someone she cares about and what it could mean for her future. Will she be able to stay with Gavin? However, it was the epilogue that wrapped this story up perfectly, as Gavin and Dani are meant to be together. Really, Gavin changed Dani's life for the better and I loved her words to him, as it proves how much she loves the hero. I would recommend The Way Back to Us by Jamie Howard, if you enjoy second chance romances or books by authors JM Madden, Rebecca Shea, Kelly Siskind and Danielle Pearl.
Book Info:

Publication: December 12th,2017 | Swerve | Love Unplugged #3
Gavin MacCormack found the one. He fell in love. Hard. Until one night he ran out for some ice cream and came back to an empty dorm room, closets bare and nothing but a quick hand-written note saying, I'm sorry. Those two words taught Gavin the meaning of heartbreak. A feeling he never wants to encounter again. And as the lead singer of a Grammy award-winning band he's had plenty of opportunities for casual, no-strings fun, which is just the way he likes it.
Dani Winters has had more names than birthdays. On the run with her father for nearly as long as she can remember, she's lived her life by three rules—always plan for the worst, maintain a low profile at all costs, and never let anyone get too close. Except she broke that last rule once and her heart has never forgiven her.
One chance encounter changes everything. Seeing Dani resurrects feelings in Gavin he thought were long buried, and this time he's not letting her disappear without getting some answers. But Dani's life is the definition of complicated and she's playing with fire by letting Gavin back in. When the time comes to run again, Dani needs to decide if a life without love is worth living, or if it's time to stop running and fight.