Dirty Little Lies by Lora Leigh is the third book in the Men of Summer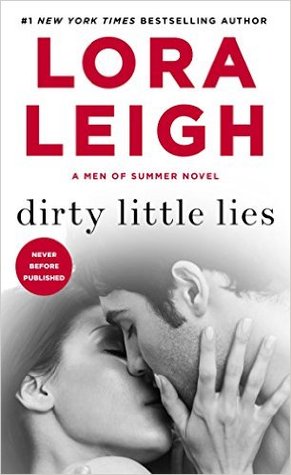 Series but you don't need to read the first two in order to follow this one. For this book, Grace and Zack are the main characters and these two will take you on one heck of a ride and all I can say is, you better hold on because things are about to get interesting! The pages are full of passion, family secrets, and I couldn't read it fast enough
Grace and Zack have skewed views of each other. She thinks he's just a quiet accountant who's not alpha material and he thinks she's helpless and vulnerable. Both are completely wrong and watching them realize this is highly entertaining. When Grace is named as a traitor and accomplice, Zack and Grace must work together to uncover the lies and draw out the real traitor.
Zack has always been there for Grace, no matter what. When he finds out she was attacked, he takes steps to ensure that nothing will happen to her again. By claiming Grace as his lover, her enemies and his family will have to back off or suffer the consequences.
So much deceit and lies take hold in this book. I'm surprised how much Grace was able to take. She handled the information pretty well for someone who's been lied to for all her life, but then again, it's not like she had any other options. Being with Zack makes her feel like she can take on the world, but when Grace finds out what Zack has been hiding, will she ever recover?
"I stayed away from you all these years because I knew how betrayed you'd feel if you learned the truth," he sighed wearily, knowing the time for hiding was at an end. "Just as I knew I wouldn't let you once I decided you were mine."
Betrayal, lies, and intense characters, make Dirty Little Lies a must read. If you've read from Lora Leigh before, then you know you can expect a sizzling erotic read and this is no different. Highly recommended!
Book Info:

Publication: August 30th 2016 | St. Martin's Paperbacks | Men of Summer #3
THE HEART HAS ITS SECRETS.
Zack Richards knows he's asking for trouble. Trying to protect a member of the notorious Maddox family could get a man killed—even a battle-scarred, muscle-ripped alpha like Zack. But the woman who has captured his wildest fantasies is nothing like the rest of her power-hungry clan. She's innocent, beautiful, and has quickly become the one shining light in his dark, desperate world. The only woman worth fighting for…and dying for…
BUT PASSION NEVER LIES.
Her name is Grace Maddox—and everybody knows that she is a marked woman. Targeted for her family's sins and hunted like a wild animal, Grace has no choice but to accept Zack's protection. In his arms, she finally feels safe. In his eyes, she sees an insatiable desire that mirrors her own. But the truth is dangerous—and could end up tearing them apart. Will surrendering to Zack end up being the biggest mistake of Grace's life?