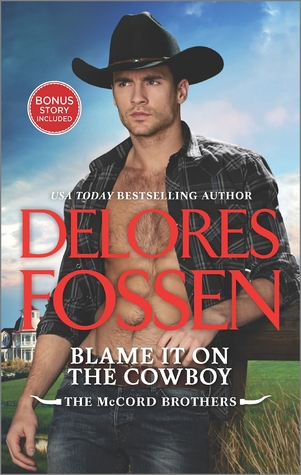 In Blame it on the Cowboy (The McCord Brothers #3) by Delores Fossen, proposing to his girlfriend didn't turn out quite liked Logan McCord hoped. Instead of drowning himself in his sorrow like he'd planned, Logan is determined to take Reese Stephens — the beautiful woman he meets — up on an offer he can't possibly refuse.
"It's not the game," she explained. "I'm offering you sex with me. No names. No strings attached. Just one night, and we'll never tell another soul about it." She finished off her last tequila shot, shuddered and stood. "Are you game?"
Ms. Fossen writes wonderful heroes, and the McCord Brothers are definitely among her best. Right from the beginning, this book was captivating, fast-paced and opened with quite a horrible surprise for Logan. Something he did not expect or need to witness from the woman he was going to propose to. However, it was the moment that Logan and Reese came face-to-face for the first time in this story that had me flipping the pages, wanting to discover why Reese was ticking items off her bucket list and whether she would be all right after what she learns from her doctor (which was a total shock for her).
The dialogue was well-written and quite intense due to the main characters back stories, especially that of the heroine. She's been through a lot in her life because her parents were bad people, and it appears her past has come back to haunt her. Will Logan and Reese come out on top against those that are trying to ruin their lives? Will Logan's business survive if people begin to believe the rumors being spread about Reese?
Both Logan and Reese were incredible characters, and together with the secondary characters (the ones that supported Logan and Reese through tough times) made this story highly enjoyable. Logan and his twin brother, Lucky, haven't always had the best relationship. Logan is the more serious of the twins while Lucky used to be all about having fun before he found love, and I liked how Lucky helps both Logan and Reese to see that they're good for each other. And that they shouldn't let the trouble that's happening interfere with their growing relationship. Then there's Reese's friend, Jimena. She's a real hoot and the threats she makes to Logan had me smiling. Truly, the heroine is lucky to have someone that is so protective of her after what Reese's ex did to her.
"Dick-ripping?" He questioned. "A little extreme, more like something Jimena would do, but thank you for the offer. I did notice, though, that you didn't get pissed when Chucky threatened to slime you, only when he turned that potential slime on me."
Reese is strong, brave and I liked how protective she was of Logan. She didn't want him to suffer the consequences of her past, and was willing to do whatever it took to protect him. I also liked the fact that she finally decided to face her past, instead of continuing to run from it. Because what Logan did for her needed to happen for Reese to finally see that she doesn't have to be afraid, of how her mother believes she can use the heroine in her nefarious plans to con people anymore.
While Logan, he's hard-working and confident when it comes to handling the situation he and Reese face with the people wanting to use her. He hasn't had the easiest of times over the years. Something he and Reese have in common with the way they've carried around the guilt of those that have died that they believed they could have saved. Yet, what I liked most about Logan was that he was willing to fight for Reese; to show her that her life can be different if she puts her trust in him.
Overall, this was a really good read with a strong romance that had me cheering for this couple's happy ever after because both deserved to find happiness after all the obstacles they have to overcome throughout this book. The way this story ended made me smile, as Logan will do anything to take the people who are trying to con him down. Luckily, he knows just how to out-con a con artist. I would recommend Blame it on the Cowboy, if you enjoy contemporary romance mixed with a dash of suspense or the sexy protector trope. I would also recommend the first two books of this series, as the McCord Brothers are sexy heroes.
Book Info:

 September 27th, 2016 | HQN Books | The McCord Brothers #3
Every cowboy has a wild side—all it takes is the right woman to unleash it…
All of Logan McCord's carefully laid plans erupt the day he walks in on his would-be fiancée getting…well, not so carefully laid. Tonight, just once, Logan is acting on instinct. And that instinct is telling him to say "Happy to oblige" to the cute stranger looking for a no-strings fling with a Texas cowboy.
When chef Reese Stephens made her bucket list, she mistakenly thought she had weeks to live. Not that she regrets her one-night-stand with the gorgeous rancher. But she does regret leaving an heirloom watch as a parting gift. Tracking Logan down is easy. Walking away again is another matter. Because Reese's crazy past and Logan's battered heart are no match for the kind of chemistry that could turn one night into the start of a passionate lifetime.