In Dirty Rich Betrayal: Love Me Forever: Mia & Grayson by Lisa Renee Jones, Billionaire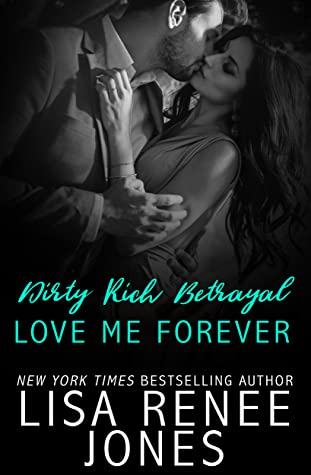 businessman Grayson Bennett and lawyer Mia Cavanaugh thought that their love would survive any test. It was that strong. But an unfortunate shocking misunderstanding forced them apart. After almost a year, neither of them thought they would ever get the chance to reconcile and start to rebuild their future all over again. It takes Mia's life being threatened, right in front of Grayson's eyes for them both to realize that what they still feel for each other is worth the fight.
"You own me, Grayson Bennett. That used to scare me, but not anymore."
He catches my hand and kisses my knuckles. "You own me, too, baby."
It feels oh so right to be back in each other's arms, leaving Mia and Grayson to wonder why they didn't try again sooner, knowing they can't get back the time they've lost together over the past year. But now they vow to communicate. To be a team instead of trying to take on the world by themselves. And it isn't long before Grayson and Mia face down yet another challenge that circles back to the demon they already faced down and thought they'd won. The couple realizes they truly are stronger together as they pool their wits and resources together. All Mia and Grayson know is that once they are no longer in danger and can breathe again, they'll take the next step to make their love permanent and stronger than ever.
"I want to revel in how imperfectly wonderful we are. You are the glue that holds all my broken pieces in place. You make me whole again."
Exquisitely tender and loaded with a wide array of emotions, Love Me Forever was the perfect conclusion to Grayson and Mia's stormy duet of books, where they faced down their demons and recommitted to a bright and shining future together.
"You're home, Mia, and that home is with me. Forever.'
"Forever," I whisper, and when his mouth comes down on mine, it really is like I'm finally home. I'm where I belong. With him.
I truly have a ball when I'm immersed in what I refer to as the "Walker Universe" that Lisa Renee Jones has created. It's a fairly large group of characters, all interconnected in one way or another, so it's like catching up with friends every time I pick up one of these books. Grayson and Mia themselves have appeared in other novels, too. But if you've read their own story, Dirty Rich Betrayal, and have been just aching like I've been to see how that cliffhanger turned out…this is it. And the wait was definitely worth it.
Without giving too much away, the suspense at the end of book one was just the beginning of the fallout that Mia and Grayson had to endure in this story. But to me, the drama took a bit of a backseat to the humbling depth of their emotional connection–something I *loved*. LRJ has this way of getting to the crux of each couple's issues within their relationship, then showing readers through their thoughts and actions how they grow and overcome those difficulties. And it was superbly done with Grayson and Mia.
Their love was palpable. And I think with Mia and Grayson repairing their bond after the break up, we got to see the best of their personalities shine while they combined efforts to keep each other safe. Grayson was still all alpha but there was such tenderness and care in how he treated Mia. (Swoon!) And she blossomed under his kindness, showing him in return that Grayson could trust in her to be strong and level-headed while also giving in to his dominance in their more intimate time together. *dreamy sigh*
Mia and Grayson, back together! Their passionate romance was in full swing in Love Me Forever. As were the threats against them. Lisa Renee Jones deftly pieced together a captivating novel with enough danger, sensual scenes, and camaraderie between all the characters to charm readers straight through to the final page.
Book Info:

Publication: Published May 12th 2020 | by Julie Patra Publishing | Dirty Rich #10
Grayson Bennett returns.
A powerful man, the king of the world to some, but he is nothing without Mia Cavanaugh. She is his life, his heart, the reason he breathes. Shaken by an attempt on her life, Grayson is ready to marry her, love her, protect her, but the threat isn't over. He has lost everyone he loves before Mia. He will do anything it takes to protect her and call her his forever.