Dirty Scoundrel by Jessica Clare: Clay is one of five brothers running Price Brothers Oil. They grew up poor, but he was always popular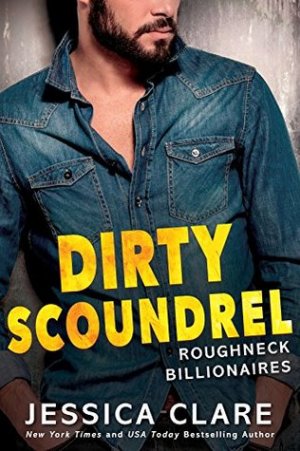 and fun to be around. Clay loves spending time with his brothers and he's always up for company. Now that he's rich, he could have anyone he wants in spite of how rough around the edges he is, but he's never forgotten his first and only girlfriend.
Natalie grew up as the only daughter of a Hollywood actor. She is sweet, loyal, and always taking care of others. Instead of heading to college, she stayed home and has been caring for her father. She's tired of working so much and still struggling to pay the bills.
Clay decides that it's time to finally move on from the ghost of Natalie and how she broke his heart. When he learns of how their fortunes have reversed, he proposes a deal she can't afford to turn down.
"I'm wearing a cocktail dress for The Sizzlin' Skillet? Are you serious?" I stare at him, aghast. "I thought you said this was a business dinner."
"It is. My buddy Fred's meetin' us there and we're gonna talk business."
"I didn't need a three-hundred-dollar dress and eight-hundred-dollar shoes for The Sizzlin' Skillet!"
Natalie is shocked by how Clay has changed, but she wants him as much as ever. The chemistry is still between them despite the years. They fight and banter as their deal becomes more real and less of a contract. Clay's bargain does give them the chance to deal with the past and get to know each other again.
"Waited for you." I gaze at her pretty face, so lovely she makes my heart ache. "Then I waited to get over you."
Her full lips part and her eyes grow shiny. "Oh, Clay," she sighs. "Sometimes you say the sweetest things…and then sometimes I want to punch you right in the face."
Dirty Scoundrel is an entertaining and sexy second chance story. Jessica Clare created and continues to deliver a unique cast of characters in this series. Ms. Clare provided humor, heat, heartbreak, and family. Dirty Scoundrel can be read as a standalone in this series. Fans of Scarlett Cole and Nora Flite will enjoy Dirty Scoundrel.

Book Info:

Publication: November 21st 2017 | InterMix | Roughneck Billionaires #2
In a sizzling novel from the New York Times bestselling author of Dirty Money, there's rich, and then there's filthy rich when an oil tycoon takes being a roughneck billionaire to a new level.
Clay Price has everything he's ever wanted, except the one thing money can't buy—Natalie Weston. Years ago, Clay and Natalie were in love…until she turned down his marriage proposal. Now Clay and his brothers are oil-rich billionaires, and they can have whatever they want. And what Clay wants is Natalie in his bed, no matter what it takes. If it means being ruthless, he'll do it.
Natalie gave up on true love years ago when the realities of the world destroyed her fairy-tale hopes. Giving up Clay is her biggest regret in life, and she's excited to see him return…until she finds out why. Clay's got one hell of a proposal for her: he'll save her father's business and bail Natalie out of debt if she'll agree to become his very personal assistant. It's clear that he wants more from her than just typing.
It's also clear that Natalie has no choice. This scoundrel's bet could destroy any hope they had of reconciliation—or it could bring them together once and for all…