In A Christmas Miracle by Amy Andrews, when Trinity Walker comes to the rescue of Reid Hamilton's grandfather, her life changes for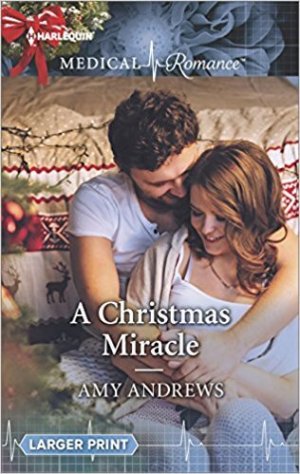 the better when Reid offers her a job and a place to stay. However, Trinity is only willing to accept the offer until she has her life back on track and can take care of herself and her son. Will Reid be able to convince Trinity to give him a shot at happy ever after, or will he lose the best thing that's come into this life – the love of a good woman?
But I would have to be a carer," she said, her voice faint to her own ears. "I'd be a companion."
"It's a comparable job." He shrugged once again waving away her concerns. "I can afford it and Pops is worth it. Plus," he said with a look on his face that announced he was about to lay down his trump card, "it'll also give you another skill set. Some experience at another job other than bar work or cleaning that'd fit in better with Oscar's hours. I'd give you a reference too, of course."
If you've never read a book by Ms. Andrews, then you're missing out on some fabulous reading, especially when it comes to her medical romances. And right from the beginning, this book was very entertaining, fast-paced and a story that drew me in immediately because of what the heroine is going through. She's had a tough time with her son's illness and definitely needs to catch a break if she's to be able to take care of herself and her son to the best of her ability. However, it was from the moment the hero and heroine meet that had me hooked and determined to discover more about the heroine's troubles and whether Reid and his grandfather will be the answer to her prayers.
The dialogue was well-written, compelling and I loved the mix of intense moments and teasing banter. Trinity is wary to trust anyone, and yet, Reid is good for her in the way he wins her trust and shows he's not a man to take advantage of her situation. Furthermore, I found myself smiling and laughing at times because of Reid's determination to show Trinity that there are good people in the world and that it's all right to accept help in order to get her life back on track. Seriously, he's good for her when it comes to her emotional state, especially when she gets too overwhelmed by everything that's going on in her life.
Reid laughed at her self-deprecation. "Crying is good for you." He suspected she needed to do it more often.
"Oh, yeah?"
"Yes, ma'am." He grinned. "I learned that in med school."
She lifted an eyebrow at him. "You do it a lot, do you?"
"Every night. Twice on Sundays."
Both the main characters were wonderful and I loved the heroine's back story, as she's been through so much and hasn't caught a break where she's been able to get her life back on track in being able to support herself and her son. Still, she's strong, brave, extremely independent and I liked how determined she was to have the life she's always wanted for her son. I also liked how she did her best not to get involved with the hero, as he's helping her. Will the hero prove he's different to the last man that offered her a job? While the hero, he's hard-working, confident, kind, caring and I liked how determined he was to help the heroine because of what she did for his grandfather. I also liked how tight the hero was with his grandfather and that he would do anything for the elderly gentleman that needed help every now and again.
'I'm not a big fan of tattoos, I have to admit, but they suit the whole lumberjack thing you've got going on."
That surprised a laugh out of Reid. "Lumberjack?"
"Yes." She smiled as she levered herself up on one elbow, looking down at him. "The whole big, macho, bearded biker thing. All you need is a flannel shirt and a big old axe and you'd be the real deal."
Overall, Ms. Andrews has penned a fantastic read in this book where the chemistry between this couple was strong; the romance full of passion and showed how much the hero needed the heroine; and the ending had me hoping the hero could win the heroine over knowing that she only accepted the job until she saved enough money to not have to rely on anyone. As for the ending, it had me concerned for one of the characters in this book, and I liked how the hero was determined to make things easier for the heroine to be able to deal with what was going on. Certainly, he wants her to know that he'll always be there for her, which is huge and shows he's changed his stance on relationships. I would recommend A Christmas Miracle by Amy Andrews, if you enjoy the medical romances or books by authors Amy Ruttan, Sue Mackay, Meredith Webber and Carol Marinelli.

Book Info:

Publication: October 18th, 2017 | Harlequin Medical |
Her knight in shining leathers!
Trinity Walker has learnt the hard way to stand on her own two feet for her sick son Oscar. But, when ex-army surgeon Reid Hamilton walks into her life and offers her a job and a home, she can't refuse!
He might ruffle her feathers, but Trinity can't help falling for the knight in motorbike leathers. Reid never expected this little family to bring such sparkle into his cynical life but now he'll do whatever it takes to give Trinity the love she deserves this Christmas!