In Dirty Sexy Saint (Dirty Sexy #1) by Carly Phillips and Erika Wilde,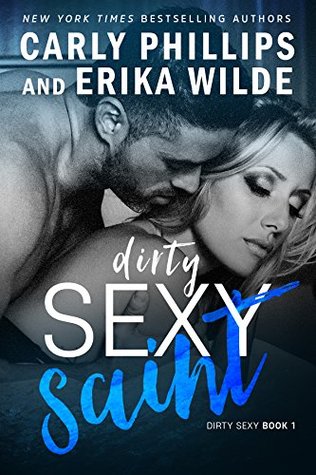 When Clay Kincaid made the decision to let sweet and sexy Samantha Jamieson stay the night in the apartment above his bar, he knew he'd probably live to regret it. Not only can she not hold her liquor, but she tempts him like no other woman ever has. Clay doesn't do long term relationships thanks to his messed up start in life. But it might be worth the risk of heartache if he can have Samantha's love to fill his days and nights.
"Every day you bake something new. And every day I swear it's my favorite dessert," he said in amusement. "But this macaron thing is like a little bit of heaven in my mouth."
He slipped a hand around the nape of her neck and tipped her head up toward his. "After you, of course," he murmured, eyes twinkling wickedly as he sealed his lips against hers and kissed her. Slowly. Leisurely. Thoroughly.
Samantha took a stand against her over controlling parents and left their wealthy neighborhood in search of a new beginning. Kincaid's bar put her directly in the path of Clay, a gorgeous hunk of a man with a hard edge to his persona. But she knows he's deserving of the nickname 'Saint' his brothers gave him after he takes her in and gives her a job. Samantha also wants to shed her inhibitions and live her life as she wants to for a change. Clay is the perfect guy for some sexy good fun. But what starts off as a fling soon turns into something that will end up changing her life.
'He left no part of her untouched. Physically, he owned her. Emotionally, he felt so right, so much a part of her. So inevitable. Like she'd been waiting her whole entire life to meet him, to be with him.'
Dirty Sexy Saint definitely lived up to its name. Romance with an erotic edge and lots of family drama paved the way to make this a steamy yet compelling story. I can't imagine what to expect as the series continues considering how hot it's starting off!
Talk about an 'opposites attract' romance. Clay and Samantha couldn't have been any more different from each other, both in personality and background. But they made a perfectly balanced pair. It was fun to watch as Samantha's inner bad girl came out while Clay was knocked off his feet emotionally with the connection between them. It might have seemed like insta-lust when the book started out, but it quickly morphed into something very real and something well worth fighting for.
I think what struck me most–aside from the incredible love scenes, of course–was the back story of the Kincaid brothers. It was so dark and gritty, painful and heartrending, that I think readers will be hard pressed to not empathize with what the three men went through. And it's also a great setup for the continuation of the series. As we were introduced to them here, it was apparent that each of the brothers were vastly different in personality. So much so, that I think we're going to be in for a wild ride. Especially with super bad boy Mason's story up next.
We're off to a great start in the Dirty Sexy series. Clay and Samantha's romance will be sure to get you a little (or a lot) hot under the collar while still tugging on those heart strings with their sweet connection.
Book Info:

Publication: Published January 19th 2016 | CP Publishing | Dirty Sexy #1
New York Times bestselling authors Carly Phillips and Erika Wilde bring you a dirty, sexy, smoking hot SERIES featuring three bad boy brothers bonded by shocking secrets and their damaged past. Sinful, addicting, and unapologetically alpha, these men are every woman's erotic daydream … And your ultimate dirty fantasy.
Are you ready to get Dirty Sexy with a Saint?
Clay Kincaid knows he's more a sinner than a saint. Especially when it comes to women. With a rough and damaged past that has left him jaded, he doesn't do committed relationships. But he does like sex—the hotter and harder, the better. He likes it fast and filthy, which is why he refuses to even touch someone as sweet and guileless as Samantha Jamieson. Until he discovers that she likes it just as down and dirty as he does. Let the sinning begin . . .
DIRTY SEXY INKED & DIRTY SEXY CUFFED coming in 2016!
All books in the DIRTY SEXY Series are full-length novels with no cliffhangers!