Dirty Work: A Steamy Workplace Romance by Regina Kyle: Things are very rarely what they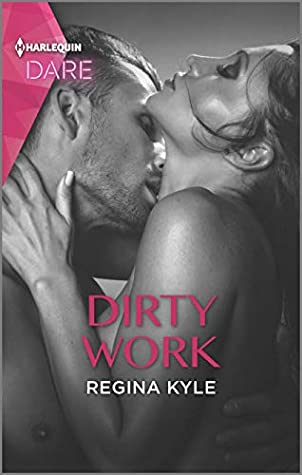 seem to be, that old saying, never judge a book by it's cover? Each and every day the truth in that statement is shown more and more.
Ainsley Scott wasn't really what she seemed by outward appearance but she kind of liked it that way. She had been through a couple of truly life changing events and she had been changed because of it. In some ways it was almost nice that people under estimated what she was really capable of, that is until it wasn't. Until who she was came out and people got different ideas in their heads.
Jake Lawson was one of the unfortunate ones who underestimated Ainsley. For him life was work hard and play hard, there were reasons he was the way he was as well but as much as he knew that he didn't seem to realize that there could be more to others as well. He did know that he liked routine and when people tended to mess that up he didn't react very well.
Ainsley and Jake were thrown together thanks to a large dog named Roscoe. What Roscoe couldn't accomplish though, a tight dress and a hurt shoulder managed, then a cell phone ruined. Or was that cell phone the best thing that could have ever happened?
So this new DARE series is HOT and Ms. Kyle is no exception. While the reader goes into the story thinking they know what is going to happen Ms. Kyle manages to throw in many twists and turns that you won't see coming. She really explores the secondary worlds she has created as well but does leave you wondering what happens with them as they are so realistic. One can only hope that she will go back and complete their stories as well. Overall this is a great read, a great story and some moments that will have you sweating in a wonderful way.
Book Info:

Publication: May 1st 2020 | Harlequin Dare |
Millionaire nightclub owner Jake Lawson works hard, but executive concierge Ainsley Scott is showing him how to let loose…in the sexiest possible way!
I knew I was in trouble the moment millionaire Jake Lawson walked through the door of his swanky Tribeca loft. The definition of tall, dark and handsome, he's hired me to take care of his parents' Irish wolfhound. But one game of strip Scrabble later and we're taking care of each other all night long…
Starting my concierge business was my way out of the rat race I ran as a lawyer until it cost me my fiancé. And Jake is a full-on workaholic, certain his high-end nightclub will fall apart if he loses focus for a second. We couldn't be more different. But the chemistry between us is off the charts!
From drag-queen karaoke to movies at Hudson River Park, I'm showing Jake how to lighten up and enjoy everything New York City has to offer. But I can't help wondering if blowing each other's minds in bed is enough to make up for our different values. Can Jake step away from his smartphone long enough to give us a chance?