In Tough Talking Cowboy (Wild Rose Ranch #3) by Jennifer Ryan Healing from injuries and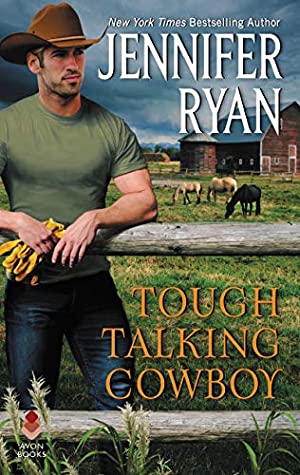 battling a demon called PTSD, former Army Ranger Drake McGrath thought returning to his family's ranch in Montana would settle his soul. Instead, he lost his fiancee, has three siblings keeping watch over him, and he can't seem to find his place in this new world. Then a force of nature enters Drake's life: Adria Holloway. The gorgeous, strong-willed woman has fought her own share of battles to mostly come out the other side. And the compassion she shows him, along with the platonic lust they slate together, brings much needed light to Drake's world. But when everything around Adria once again shatters, will she accept his support? Or will the feelings he's been holding at bay for her be too much for her to handle?
'Being with Adria helped more than anything to mask the pain, turn off the nightmares, and dull his wild emotions. Just thinking about her and what they shared made him feel better.'
Getting her twin sister Juliana into rehab is Adria's primary goal right now. Then maybe she can begin to focus on making a new life for herself–and, eventually, Juliana–in Montana, starting a business with a friend. The last thing she needs is to be attracted to a guy. Especially a man like Drake who has so many of his own issues to sort out. But Adria can't walk away from helping him, so she offers what she hopes will bring him out of the darkness surrounding him: a passion-filled fling with no emotional attachments. She should have known better, though. Because when Adria commits to doing something, her whole heart is involved. However, as her world sadly begins to crumble, her instincts to shelter herself kick in, leaving her to wonder if she can find a safe place with Drake after all.
'She felt his strength, his understanding, and gave herself another reminder that he wasn't a monster but a broken man in need of caring and comfort just like she'd been as a child.'
Tough Talking Cowboy proved once again how well author Jennifer Ryan can play with a reader's emotions as we followed two troubled but hopeful kindred spirits on their often pain-filled path to healing themselves.
"I know you feel lost right now. You and me, we belong together. Come back. I miss you so damn bad." Her tough talking cowboy's words were gruff and filled with emotion. He meant every word.
Trigger Warning: View Spoiler »PTSD, drug use/overdoses, suicidal thoughts, sexual abuse, prostitution. « Hide Spoiler
Even if you didn't read the trigger warning (which I totally understand if you didn't), I do want to mention that Jennifer Ryan took this story to some dark places, so it will be very tough for some readers. I was full-on crying over an event in the last quarter of the book–something that took even me by surprise, already knowing hints about one of the characters ahead of time. It was horribly sad. But the way Ryan showed our heroine and hero dealing with the fallout added another level of realness to the story.
Our hero, Drake McGrath, actually made an appearance in Ryan's Montana Men series, in His Cowboy Heart. But this book can easily be read as a standalone. It was difficult to see Drake battle with PTSD. I'm not going to lie. He was a war hero who couldn't come to terms with losing so many of his men in battle. The former Army Ranger had been a loving, easy-going guy before his service, so seeing his family struggle to help Drake find his footing back in Montana on their ranch was heartbreaking. I *loved* that it was Adria, someone who had been through her own trauma but healed herself through helping others, who finally got through to Drake. And who made him look past his scars–physical, emotional and mental–to the incredible man he had become.
Adria herself had a childhood that nightmares are made of. If you've read either of the previous books in the Wild Rose Ranch series then you've gotten glimpses of what she and her twin Juliana went through. I have to admit that I was angry over the selfishness Juliana showed towards her sister. The one person who always had her back. But Adria was too kind-hearted to let it stop her from reaching out a hand to Juliana over and over again during her troubles with addiction. It was heartening to see Drake understand Adria's need to be there for her twin. And he did what he could for Juliana as well as his friend Chase who was also in a bad place after coming back from the Rangers injured. I thought it was touching how well Adria and Drake understood each other. There were some issues they faced, mostly due to lack of communication, but they made a lovely pair.
The final book in the incredibly emotional and lively Wild Rose Ranch series, Tough Talking Cowboy ripped my heart to shreds–but Jennifer Ryan pieced it back together with a sentimental ending that had me smiling through my tears.
Book Info:

Publication: March 31st 2020 | Avon | Wild Rose Ranch #3
Return to Montana as a tough-talking cowboy meets his match in Jennifer Ryan's newest Wild Rose Ranch novel.
Ex-Army Ranger Drake McGrath has come home to Montana, locked in a battle with himself, lashing out at those who love him most—driving away his ex-fiancée and alienating his family. But Adria Holloway sees beyond Drake's tough talk to the raw pain beneath.
Raised with her twin sister Juliana by a neglectful mother at the Wild Rose Ranch, Adria also struggles to put the trauma from her past behind her. To help them both, she makes Drake a shocking deal—a no-strings relationship that'll help them both face down their demons. Maybe it's a way for her and Drake to heal each other, one sizzling night at a time…
The heat between them is instant and incredible. But the biggest challenges are yet to come. With Juliana battling her addiction and Drake working on his issues, Adria realizes she can't save everyone. But Drake and Adria discover love can survive tragedy and loss—and they can have the life they never thought possible if they just hold on.