Do Over by Serena Bell is a sexy second chance romance for two friends who give into their sexual attraction for a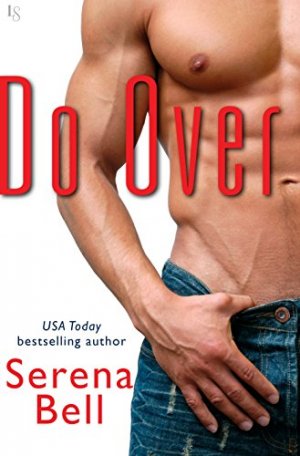 brief affair – that has long term consequences.
Jack Parker and Maddie Adams were best friends as kids but drifted apart as young teens for a variety of reasons. Through high school, they were both aware of each other, but ran in different circles. One night at a party and a few drinks led to a brief fling, though Jack was up front that he didn't want a relationship. And when Maddie finds out she's pregnant and brings the news to Jack, he's clear that his feelings haven't changed, though he's willing to take responsibility .
Four years later, Maddie and Jack have taken well to co-parenting their son Gabe. Jack gets him every second weekend and with the help of his mom and sister has been a good father if somewhat uninvolved, acting more like an 'uncle' than a Dad. That all changes when Maddie's current relationship dissolves when she catches her boyfriend cheating on her with her best friend (double ouch!) and she needs a place to live on short notice. Jack offers to let her and Gabe stay with him while she searches for a place to live. In doing so, the two of them have a chance to reconnect as friends, and then as lovers. But is it enough to make them consider a future together as a real family?
I'm a big fan of Serena Bell's books, such that I'm likely to pick up her stories even without reading the blurb. As a result, I didn't actually know what the story was about when I started reading it. But once again she has impressed me with her ability to take an interesting premise and deliver a solid, emotional and steamy romance.
Jack and Maddie have a complicated history, and unlike most unexpected pregnancy stories, the fact that Maddie is going to have a baby is not what brings them together. It's five years after the fact, when they've gotten into their routine of being the best separated parents they can be for their son that things take a new turn. Their friendship from childhood is always in the back of their minds but until they are living together they don't delve into why it ended. Jack's father was abusive to him as a child, and the dissolving of his parent's relationship shaped his teenage years and his attitude towards relationships. Maddie is able to coax out of him the truth – that his worries about becoming like his father have kept him from considering a long term relationship. Even the birth of his child has left him a bit wary of taking on the full-time commitment of fatherhood without another relative to come to his aide. Once that shell cracks open, Jack and Maddie are able to move their relationship forward as Jack becomes a full time father figure.
There are several steamy scenes between the couple as they rekindle their relationship (though this time, birth control is higher on the priority list). Still Maddie is wary about letting Jack know how much she really cares for him. They both have to admit to some painful truths before they get to their happy ending but it's definitely worth it in the end for them, and their son. There is a sweet epilogue too. I highly recommend this entertaining and unique second chance romance!

Book Info:

Publication: Jan 30, 2018 | Loveswept |
Toe-curling? Check. Sheet-twisting? Check. But is that enough for a second chance?
Jack: I'm pretty much as tough as they come. But when a woman comes to me in tears, I'm jelly. Scratch that—when Maddie Adams comes to me in tears, I'm jelly. That's how we ended up making our incredible son five years ago, and that's why I practically beg her to move in with me when she's in a tight spot. Of course, the last time I got the chance to be the hero, I let her down, but I'm not making the same mistake twice. This time, I'm going to be the man she deserves—and then I'm going to lay every ounce of sexy on her until she lets me back into her heart.
Maddie: Jack Parker is hot, and he knows it. What he's not is a family man, something this single mom had to learn the hard way. Still, moving into his place until I get back on my feet makes all kinds of sense. He's an old friend. He's, ahem, the father of my child. And let's face it, now that I've just been colossally dumped, we've got nowhere else to go. The truth is, I never could resist Jack. Living under the same roof puts dirty thoughts in my head. And when my brilliant plan backfires, my whole body is begging for a do-over. . . .