In Miracle on Chance Avenue (Love on Chance Avenue #2) by Jane Porter, Rory Douglas finds it hard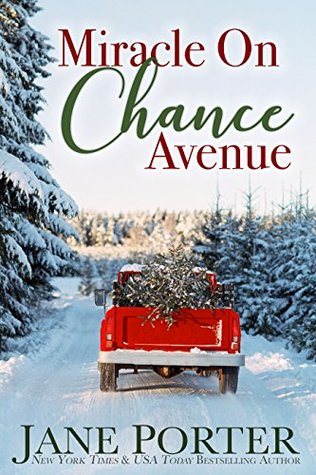 returning to Marietta, so he doesn't do it often. But when an injury sidelines him from riding bulls, he returns home to discover his dream girl lives in his hometown. However, as things heat up between the pair once Sadie Mann decides to give Rory a chance, she finds it becoming harder and harder to tell him her secret; a secret that could tear them apart. When Rory learns the truth, will he be able to forgive Sadie, or will he walk away from the woman he's fallen in love with?
"Take it in baby steps," he said.
"And what is a baby step?"
"Lunch. I'm starving."
Some of the tension in her chest eased. "Actually, I'm hungry, too. All those tears and confessions."
His lips quirked. "Emotions can be draining."
"Spoken like an expert."
"Now you're just being sassy."
Normally, I have no problem getting into Ms. Porter's books from the moment I start reading, but it was hard to like the heroine in the beginning, as she seems obsessed and a tad desperate in her interest towards Rory. Why did she always remain a mystery to Rory until they come face-to-face in Marietta? Why follow his career the way she did without ever introducing herself to him? However, in saying that, the heroine did win me over throughout this story, as she opens up to Rory about her dream that once seemed impossible, but now could come true.
As for the dialogue, it was very entertaining due to how the tragedy that had a huge effect on Rory's life is linked to Sadie's and the guilt she feels because he wasn't there for those he loved. However, it was also their interactions that make things interesting, as Sadie is determined to resist Rory and try to finally move past what she wanted from him. Yet, he's just as determined to finally win his mystery woman over. How long will it take Sadie to give in to temptation? Furthermore, the dialogue was also intense due to the main characters back stories, especially that of the hero, because of the way he lost his family and the fact that the only way to exorcise his demons is riding bulls. Will Sadie be able to help him heal from the horrible tragedy he suffered? Will he ever be ready to move back to Marietta?
There's nothing about you I don't like, Rory," she said hoarsely. "But I just don't know how to be friends with you. We've only seen each other from afar. We've projected all sorts of things and who knows what's real or true?"
"But isn't that what we should find out?"
"I'm not sure how."
"Talking is a good start."
"I didn't think men liked talking all that much."
With the main characters, even though it took me a little while to warm up to the heroine, I found that I really liked the hero, as he battles his demons in hopes of finally being able to move on from the tragedy that cost him most of his family. I also liked how determined he was to win over the heroine with his charming ways and his need to prove that he can be the guy she's always wanted, if she'll give him a chance. While the heroine, she'd given up on ever getting the guy of her dreams, but now he's back in her life and I liked that she gave Rory a chance. However, I was a tad disappointed in the heroine for deceiving Rory because it was palpable that things weren't going to end well because of the deception. Will he be able to handle her secret when he learns the truth?
Overall, Ms. Porter has delivered a good read in this book where I didn't feel a strong connection between this couple in the beginning, but as the story progresses their chemistry does get better; the secondary characters bring a little extra something special to the story, as they give the hero some much needed advice; and the ending had me sympathizing with the hero because he feels betrayed, but had me loving how the hero makes things right once he realizes that the heroine would do anything to protect him, even if it meant keeping what she did from him. I would recommend Miracle on Chance Avenue by Jane Porter, if you enjoy the sisters friend trope or books by authors Sinclair Jayne, Eve Gaddy, Jennifer Faye and Joan Kilby.

Book Info:

Publication: December 8th, 2018 | Tule Publishing | Love on Chance Avenue #2
Rory Douglas is the oldest Douglas and McKenna's adored big brother, but this big, quiet cowboy rarely returns to Marietta, choosing to exorcise his demons by a life on the road, riding bulls every night on the American Extreme Bull Riding Tour.
Thirty-eight year old Rory needs a miracle, and he gets one when Sadie Mann, one of his sister's childhood friends, appears on his motel doorstep, asking for a favor.
Shocked by Sadie's request, Rory brusquely refuses, but when an accident in the arena sidelines him, he begins to wonder if granting Sadie's Christmas wish, might just turn his life around.