In Doctor Love (Masters of Love #3) by Leisa Rayven, Tech wiz Toby Jenner has recently been watching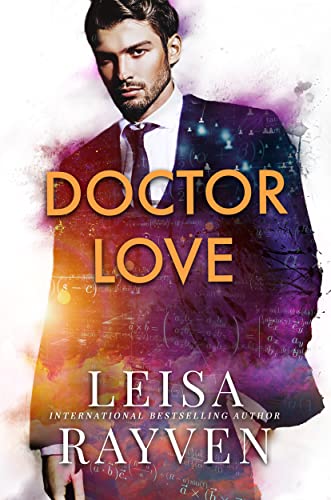 his closest friends all find their soul mates. While he couldn't be happier for them, it's a special kind of torture to have it happen while he's also putting the finishing touches on HEA, a new matchmaking app for Romance Central. An app that so far has positive reviews–except for when it comes to Toby's matches, which total a big fat zero so far. Then the night of the test launch he runs into the woman of his dreams. Well, according to his heart and their intense chemistry, Joanna should be Miss Right. But based on HEA's scoring? They don't have anywhere near enough in common to make a lasting relationship work.
'There's a part of me that cares about her happiness and knows that statistically, I'm never going to be the guy for her. That friend-part wants to encourage her to chase her bliss, but unfortunately it's handcuffed to the selfish asshole who wants her all to himself.'
As fate would have it, it turns out that Joanna is Toby's best friend Eden's close friend as well. So of course that means he runs into her after their steamy kiss the night they met, making things super awkward and downright depressing. Toby believes in his algorithm for HEA. But as he gets pulled into Joanna's complex life, with them deciding to become friends and helping each other solve some problems, he can't help but wonder why the app didn't match them up. Toby feels like he's in a battle between his head and his heart. While he unravels the mystery that is Joanna Cassidy, he knows they'll have to choose whether taking the leap into a relationship is worth the risk the app it telling them it will be.
"Despite what you might think, you're worthy of all the love in the world. You just have to believe that. Let yourself be loved. Let me love you."
She stares up at me, fear still sparking behind her eyes. "What if I fail?"
I rest my forehead on hers and close my eyes as I breathe her in. "What if you don't?"
Doctor Love, book three in Leisa Rayven's popular Masters of Love series, was completely worth the wait. Sexy, complicated, laugh-out-loud funny, and full of heart, Toby's story was everything I had hoped it would be.
"So, you're telling me that the secret to falling in love with the right person is, what? Math?"
I shrug. "Love may be messy, but math is simple."
I know Leisa Rayven's fans–myself definitely included–have been waiting about four years to see how geek-chic, cardigan-wearing Toby Jenner would finally find his love match. As Eden's bestie in Mister Romance, I loved their platonic brother-and-sister-type relationship and all the laughs they shared. Toby straight up was a great guy. The type you'd want to have your back in any situation. That's why my heart went out to him in Doctor Love, which is told from his POV–he took care of Eden, his beloved family, worked two jobs to barely stay afloat and yet had a mountain of issues to deal with every single day. All without "bothering" anyone with his (serious) problems. Call it pride, but I thought Toby was simply the type of hard worker who didn't want to burden anyone he cared about. Sigh…
Rayven's introduction of Joanna into Toby's life changed everything for the duo. I honestly wasn't sure that Joanna was on the up-and-up…or that she was the right choice for Toby. They absolutely had an instant spark between them. But she wasn't forthcoming about, well, anything when it came to her personal life. And that raised red flags–for me as a reader, and obviously for Toby. Thankfully things worked out incredibly well for them, with Joanna becoming her best self with some patience and support from Toby. (And Eden, Joanna's closest friend)
I will note that this takes place roughly between Eden's book, and Asha's book, Professor Feelgood, so if you haven't read the rest of the series there will be some spoilers. If you're already a fan, though, I think readers will love not only Toby's wittiness and hilarious inner monologues (he's seriously prime book boyfriend material), but you'll also enjoy catching up with Eden, Asha, their significant others, as well as Nannabeth and of course her sidekick, Moby the duck. (lol)
QOTD: Would you put your trust in a matchmaking app if you were in Toby & Joanna's places? Or would you go with where your instincts and your heart led you?
Book Info:

Publication: Published June 7th 2022 | LYX | Masters of Love #3
Being wrong for each other has never felt so right …
Toby Jenner may be tall, handsome, and own the world's greatest collection of cardigans, but his track record with women is woeful. Even though he's the tech genius behind the most successful matchmaking app of all time, it seems as though Doctor Love is able to predict everyone's perfect partner except his own.
All that changes when a beautiful, intelligent, quirky-as-hell woman crashes into his life. Plagued by her own relationship woes, Joanna's done with dating guys who aren't right and pins her hopes on the Happy Ever After app turning her love life around.
Within hours of meeting her, Toby realizes he's finally found the soul-deep connection he's always craved. Even better, she seems to feel the same way.
There's just one problem – according to his own state-of-the-art compatibility algorithm, they don't stand a snowball's chance in hell of working out.
Being a man of logic, Toby knows he should forget about her and move on. He knows he shouldn't move into her plush Manhattan apartment so he can monitor the glitchy A. I. that runs/ruins her life. He knows he should be fine with her dating men whose compatibility scores aren't in the single digits. And he should absolutely ignore how just being near her sets his entire world on fire.
Yes, Toby is very aware that falling for his perfectly imperfect match will lead to devastating heartbreak. But he also knows that if there's even a one-percent chance of them making it, he'll move heaven and earth to beat the odds.
A sizzling new standalone from the internationally bestselling author of Bad Romeo.