Don't Go by Alexa Riley: Henry is a sexy CEO from a wealthy family. He grew up watching the intense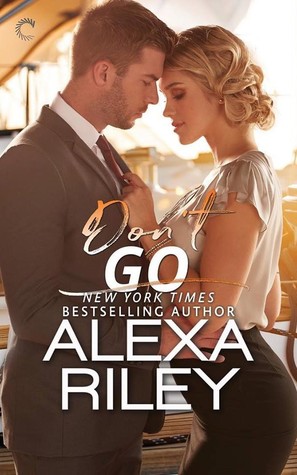 connection and love between his parents, so he avoided dating at all costs. But everything changed for him when Kory started at his high school. She immediately captured his complete attention and losing her after the prom was devastating.
Kory left New York as soon as she could after the disaster that was prom. She's super smart, but not great at making friends. Kory needs a fresh start and in New York of all places after a bad experience. She's hoping to continue to avoid Henry, like she has for the last 10 years, but Henry is finally prepared to make her listen.
"Have dinner with me." His voice is like velvet.
"No," I reply instantly.
"I'm not leaving until you agree."
It's clear that the chemistry and connection they share hasn't faded despite the distance and time. It's also clear that the events surrounding prom deeply affected both. They are similar in that they have thrown themselves into their careers and avoided relationships. Henry is persistent and pulls out all the stops in order to get Kory back and keep her by his side.
"Do you do this for all your dates?" I blurt out, unable to stop myself. "Never mind, don't answer that." My cover-up is terrible and I wish I could take the words back.
"I don't date." His words aren't teasing, but instead firm and true. "You're the only woman I'd do this for, Kory."
Don't Go is a quick and steamy second chance romance. Alexa Riley provided a fast paced story with plenty of heat and just enough conflict. Ms. Riley provided interesting secondary characters in his cousins. Fans of Jules Court and Jamie K. Schmidt will enjoy Don't Go.

Book Info:

Publication: January 22nd 2018 | Carina Press | For You #3
CEO Henry Osbourne has only ever desired one woman—the one who got away. New York Times and #1 ebook bestselling author Alexa Riley returns with Don't Go , a virgin-hero insta-love contemporary romance in the For You series
I've spent the past ten years convincing myself that what I felt for her was teenage infatuation. That love so consuming couldn't be real. Then everything went to shit, and in an instant, she was gone.
Kory Summers knew returning to New York meant running into Henry. The way her heartbeat picked up at just the thought was nervousness—not anticipation. Oh, no. She never expected to find him on her doorstep looking as handsome as ever.
She's mine. She always has been. I've waited this long for her…but time's up. I'll use all my power, all my connections, to convince her she's the one.
Kory ran from a boy, but a man of power and persuasion now stands in his place.
This book is approximately 20,000 words
One-click with confidence. This title is part of the Carina Press Romance Promise : all the romance you're looking for with an HEA/HFN. It's a promise!