Don't Tell the Wedding Planner (One Night in New Orleans) by Aimee Carson: Matt has been looking after his brother ever since their parents died, and even more so when he started his addiction to drugs. Tommy's clean now, and is engaged to a fellow recovering addict. They've both turned to gaming as a distraction, and it's one Matt can get behind. Now that he's encouraged that hobby, he feels like he has to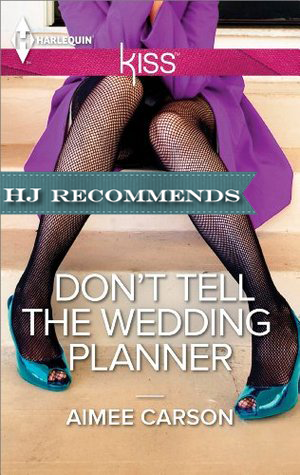 support them in wanting their Dungeons of Zhorg themed wedding. Now he just has to convince Callie Labeau to help him.
Callie knows all about Dungeons of Zhorg. After all, her ex-boyfriend Colin is the creator and owner of Rainstorm Games. It just so happens that she's also the premier theme wedding planner in all of New Orleans. Organizing a wedding around the game would be a breeze, it was the time constraint that would be an issue. It also meant working in close quarters with Matt Paulson – and she didn't know whether that was a blessing or a curse.
Callie's ex was getting a little publicity out of the event, and then it got picked up by some bigger outlets. It meant her small gathering was turning into a thousand-person LARP & Faire with a Wedding finishing the festivities. A month to plan it all in, and an added distraction of the thing that was heating up between her and Matt.
Both Matt and Callie realize the relationship is bigger than just sex, but Callie is not leaving New Orleans – and Matt feels like he has responsibilities that keep him in Michigan. It feels like an impossible hurdle to jump – can they find a solution, or will someone push them in the right direction?
"Callie, hitting zero base with you is a hundred times better than hitting a home run with someone else."
This book was a follow-up to "No Time Like Mardi Gras", although it's definitely stand-alone. Just references to the characters from the first book, and they explained the relationships to the characters in this book without leaving holes you feel you need to bridge. Since I read (and reviewed) that book as well, it added an additional dimension.
Matt & Callie were just lovely together. The Skype scene was SUPER HAWT. Also, I will never look at hammocks the same way again. While quite steamy and explicit in language, the sex scenes were few in number, so I'd probably label this as high sensual with a smattering of erotic.
The depiction of humidity was also DEAD ON, so I give extra points for making me almost literally feel the weather. Great book. I give it hearty thumbs up!
Book Info:

Published June 1st 2014 by Harlequin KISS | (One Night in New Orleans)
The craziest wedding…
Bespoke wedding planner Callie Labeau has a reputation for embracing the crazy. The weirder the concept, the wilder the party, right? And her love of all things OTT is about to be tested – because the cyber-geek wedding Matt Passmore has asked her to organize for his brother sounds insane.
…the wildest time planning it!
E.R. doctor Matt has come to New Orleans to lock down the plans. And working with the gorgeous Callie is just an added bonus! But with the city engulfed in a heat wave, the chemistry between them is getting more scorching by the day…and proving to be one seriously big distraction!