In Mended (Connections #3) by Kim Karr, Managing the Wild Ones on their rise to fame is everything Xander Wilde has ever wanted. Well. Almost. Over a decade ago he desperately wanted a future to work out with his girlfriend Ivy Taylor, but there was too much standing in their way. These days, Xander spends most of his time on the road with the band, having the occasional hook up, trying to leave the past in the past. Then Ivy reappears in his life when the band is in need of a singer. Xander isn't sure if working so closely with her will be possible, given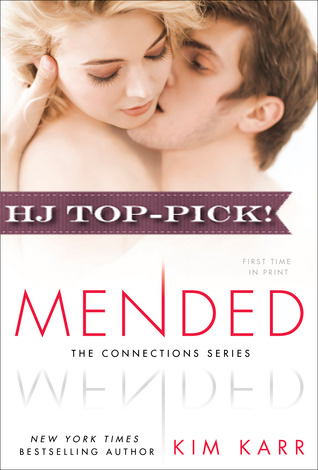 her anger about how their relationship ended. But the sparks immediately fly just like no time had passed between them. Ivy's ex-fiance becomes relentless in his pursuit of her, including holding secrets that could change Xander's life and career forever.
"I loved you when I was fourteen. I loved you when I was eighteen and had to let you go. I've loved you for the last twelve years. And I love you now. Ivy–I love you."
Singer Ivy Taylor thought an engagement to her agent Damon Wolf would create the perfect balance between her personal and professional life. She had already started to question her decision when she came face-to-face with her first love, Xander Wilde. After so many years, Ivy thought she was over him, but her anger goes away in the blink of an eye, leaving her up in the air about her future. A chance to work with the Wild Ones again presents itself, helping her move her career in the direction she wants. Finally. But will Ivy be able to avoid the temptation that is Xander Wilde? Or will she get swept up in a complex web of secrets, lies, and the possibility of renewed love?
'Xander Wilde the boy may have broken my heart once upon a time…but Xander Wilde the man, is the one who mended it.'
Mended is a stunning new romance that has it all: Secrets and misunderstandings? Check. Hot sex? Check. Angst? Check. Love triangle? Check. HEA? Check, check & check!
'When you believe a lie for so long…does it become the truth?'
After reading Torn, book two in the Connections series, I couldn't wait to find out more about Xander and the reason for his brooding demeanor. Author Kim Karr did a fabulous job giving us a complete look at where Xander and Ivy's relationship started while still keeping us firmly entrenched in the present. And the writing style was so descriptive that I could feel the character's emotions in each scene, both good and bad. The members of the Wild Ones and their family are still key players in this story, so we get the lowdown on them all and see the music they're working on as well. I really loved the music mentioned and woven throughout the story, as always. It works so wonderfully, expressing the emotion behind a scene or even an entire chapter.
Ivy and Xander were such kindred spirits and ultimately very good for each other, even though family issues tore them apart not once, but twice. Their chemistry was completely believable and extremely intense, both when they were teenagers and as adults. Without giving too much away, I will say that I think Xander's heart was in the right place when he and Ivy broke up as teens although it was a decision not all of us would have made. And the same can be said for Ivy once they are reunited as adults. Their relationship is complicated to say the least but neither one has ever stopped caring for the other. That tension, heartbreak, passion and love is why second chance romance tropes are one of my favorite to read.
I think fans of both the New Adult and Contemporary Romance genres will love Mended. It showcases the best aspects of what these stories can give us emotionally. Highly recommended.
Book Info:

Published June 3rd 2014 by NAL
MUSIC HAS THE POWER TO HEAL ALL…BUT NOT ALL BROKEN HEARTS CAN BE MENDED.
Always in control, Xander Wilde considered life on the road to be a perfect fit for him. But when disaster strikes on the Wilde Ones' latest tour, fate intervenes…and a newly single Ivy Taylor, the only girl he has ever loved, steps back into his life.
After moving past her painful breakup with Xander years ago, Ivy was poised to become the next big name in pop music…when suddenly she withdrew from the limelight—the same day she announced her engagement to her controlling agent, Damon Wolf.
Xander knows he should keep his distance. But once they're on the road, he can't resist pursuing her for a second chance. Yet a jealous Damon can't let her go—and he's keeping dangerous secrets that could destroy them all.
When the three of them come together, everything falls apart. But if Xander and Ivy can hold tight to the bond that connects them, they just might have a chance at reclaiming the powerful love they thought they had lost forever….