In Doubts of the Heart by Eva Shaw, Nica Dobson is on medical leave from her job as an undercover FBI consultant. She used to have the perfect cover in Las Vegas being the widow of two very rich man who left her everything.  But after being diagnosed with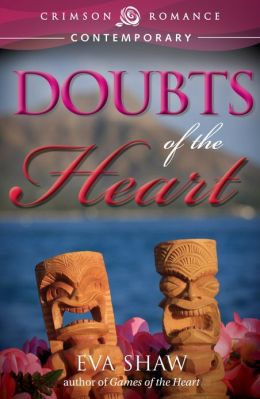 cancer and having to go through surgery and chemotherapy she is now back in Hawaii visiting family during her 20-year High School reunion, which she does not plan to attend.
But when Nica receives a call from an unknown woman claiming that her father was killed 30 years ago, and only she can help her find the killer. At first Nica does not want to take the case, she is on medical leave, she will be in trouble if the FBI find out that she is looking into a death of a rock star from the 80s.
As Nica investigates, thanks to her nosy cousin Pastor Jane Angieski who will not let her get way from it, she finds herself receiving threats and even more confusing, she finds herself spending more time with Payton Yu, a former classmate and the person now running for governor.
Payton will not let Nica get away from him again. He made a mistake by not denying the rumors that were started about her back in high school but she never forgave him for that one mistake. Now that she is back he has his second chance to win her over and he will not let her go, no matter what.
Mystery, romance and faith will abound to the point that it will make you laugh, get intrigued and leave you wanting to know what really happened so many years before, while cheering for Nica to find the real killer and find her own HEA. If you like a survivor who with her nosiness will help find the truth while finding herself, Doubts of the Heart by Eva Shaw is the right one for you.
Book Info
Publisher: Crimson Romance (May 27, 2013)
What if a stranger begged: "Only you can help me find Daddy's killer"?
A consultant to FBI now on medical leave, Nica Dobson is wrestling with images of whom she once was and who she is now. A recent breast cancer survivor, can she find the courage that evaporated during her treatments, accept the changes in her body and mind and unravel the maze of blackmail, death threats, deception, political mudslinging, and double-dealing?
Investigating a suspicious death from the eighties to prove a paternity connection between a terminally ill school teacher and a hard-living rock star would be nearly impossible for Nica even with the Bureau to back her up. Now? Nica is forced to depend on her nemesis from high school, Payton Yu, who seems to ignore facts in his quest to become Hawaii's governor.
Being a Good Samaritan has never been more complicated, especially when that requires digging up dangerous secrets involving an old moneyed Hawaiian family and their ruthless matriarch.
Sensuality Level: Behind Closed Doors