Blue-Eyed Devil by Lisa Kleypas is the second book in Lisa Kleypas' Travis series. Book 1 (Sugar Daddy) was ridiculously good. Lisa Kleypas is some kind of master, in my opinion. Anyways, Blue-Eyed Devil tells the story of Haven, the only Travis daughter.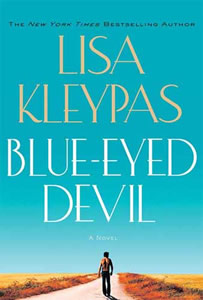 It begins at the wedding of Liberty and Gage Travis (the couple from Sugar Daddy). Haven is dating a man named Nick but sees a tall, blue-eyed, handsome stranger across the room. He stirs unusual feelings in Haven and she quickly turns away as their eyes meet. Of course, we find out that he's no stranger… at least not to those of us who read Sugar Daddy because its Hardy Cates! Since Haven is a good and decent person, she ignores the flutters she feels for Hardy, even after a funny but uncomfortable encounter with him. She goes on to marry Nick but he turns out to be an abusive jackass. When Haven begins her life anew is when things start getting really interesting! Now, I really liked Haven but there were times, when she was with Nick, that I wanted to shake some sense into her. Of course, as a reader, WE see where Nick's nasty behavior is headed but I'm sure its not that cut and dry in real life. So as much as I was yelling at Haven to drop Nick like last week's take out dinner, I had to be mindful that it must not be that easy to leave someone who you feel like you really love. But I admit that it was hard to be patient while Haven figured it out. Then, she makes you like her even more while she's getting back on her feet! Man, she was awesome and (finally) tough and wouldn't be treated like a doormat or like anything less than the awesome chick she was and that was super fun to read!
Happily, Hardy comes back into her life at a good moment. Maybe not super convenient for Haven but come on, you KNOW that makes it more fun! And Hardy isn't the younger, teenage version of Hardy that we knew from before! Whoo, weee, he is stupid hot! And because we know that Hardy is a good person and he's a damn hard worker, he's, of course, a very rich man! But you don't ever roll your eyes about it because he busted his ass to make it to where he is. I think I kind of liked the fact that I saw Hardy as a very young man (in book 1) and now, I see him as an adult. It's great to see a character come back into a series after time has passed. I mean, Hardy has really made something of himself and he's experienced a lot of life and it makes a big difference in his character. Hardy can seem full of himself at times but it never crosses over into making you dislike him. The author manages to make him even MORE charming because of it!
I found myself falling in love with these characters, just as much as I did with the characters in the first book. Seeing Hardy and Haven together is really great and they do not lack heat, if you know what I mean! LOL! I'm sure I had some issues with the book but none of them were enough to mention. I guess, for the sake of fairness, I'll that I didn't LOVE how long it took for Haven to realize what was happening in her marriage to Nick but you never really feel like Haven is a victim. So it sort of mitigates the length of time it took for her to get her head on straight.
Obviously, this is yet ANOTHER must read from Lisa Kleypas. You don't absolutely HAVE to read Sugar Daddy but you'll enjoy seeing Hardy more if you have some of his back story and if you see him when he's a teenager. In any case, I think you'll love these characters she's created. I also found that it was so much fun to read about the rarified, high class society of Houston's super wealthy. This is truly an excellent book!
Book Info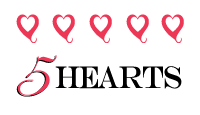 Publisher: St. Martin's Press (March 25, 2008)
MEET THE BLUE-EYED DEVIL
His name is Hardy Cates. He's a self-made millionaire who comes from the wrong side of the tracks. He's made enemies in the rough-and-tumble ride to the top of Houston's oil industry. He's got hot blood in his veins. And vengeance on his mind.
MEET THE HEIRESS
She's Haven Travis. Despite her family's money, she refuses to set out on the path they've chosen for her. But when Haven marries a man her family disapproves of, her life is set on a new and dangerous course. Two years later, Haven comes home, determined to guard her heart. And Hardy Cates, a family enemy, is the last person she needs darkening her door or setting her soul on fire.
WATCH THE SPARKS FLY. . . .
Filled with Lisa Kleypas's trademark sensuality, filled with characters you love to hate and men you love to love, Blue-Eyed Devil will hold you captive in its storytelling power as the destiny of two people unfolds with every magical word.