Down & Dirty by Tracy Wolff: Emerson would love to pursue her passion, which is her art, but the mounting bills mean that she needs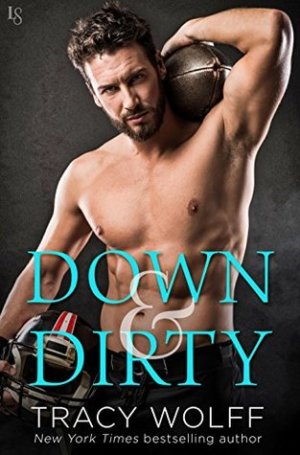 to keep her brand-new job. Working in real estate seems like a good option, and she's excited to learn the ropes. She's bright, determined, creative, and a bit desperate.
Hunter is the star quarterback of the NFL team in town. He is sexy, commanding, charming, and known for his very short attention-span when it comes to women. He's dedicated to his sport and enjoys giving back in the community. His seemingly biggest problem is finding a house and the sooner the better.
It's just one of those days where nothing goes right. Emerson is about to make a bad first impression on her first day at a new job when none other than Hunter drenches her by driving through a puddle. Emerson may be a huge sports fan, but she's not so overwhelmed as to let Hunter get away with his behavior.
She rolls her eyes. "I thought you already figured that out. Sweetheart, wasn't it?"
"Yeah, well, it doesn't really suit you, does it? And since you didn't seem to like it much, I figured I'd ask what you prefer to be called."
"Well, isn't that magnanimous of you. Too bad it's my policy never to tell my name to strange men with deplorable manners."
Hunter certainly brings out the fiery and sassy side of Emerson. She's one of the very few women who don't immediately fall at his feet, especially when he arranges to spend more time with her. Their instant connection is sizzling and overwhelming, which just so happens to be the last thing either need or want. But Hunter didn't get to be a top quarterback without persistence and a game plan. He's determined to overcome her resistance to mixing business with pleasure and prove she's not just the flavor of the week.
"There it is?" Her voice is little more than a squeak. "There it is? That implies you lost it at some point and I know you didn't lose it. Because…do you know what this is?"
"Of course I know what it is-I won it, after all. And I didn't lose it. I just…lost track of it?"
Down & Dirty is an entertaining and steamy sports romance. Tracy Wolff created really good relationships and interactions between all of the characters with plenty of banter and teasing. Ms. Wolff created a great cast of characters in their friends and family whom I would love to see as main characters in future books, especially Hunter's teammates. Fans of Jaci Burton and Sarina Bowen will enjoy Down & Dirty.

Book Info:

Publication: Expected publication: May 23rd 2017 | Loveswept |
This hard-bodied football star is used to scoring. But he needs all the right moves to get past a fiery redhead's defenses in a steamy standalone novel from the bestselling author of Ruined.
Emerson: Talk about bad first impressions. I have too much riding on this job to show up late on my first day looking like the winner of a wet T-shirt contest, all thanks to an arrogant quarterback who drives like he owns the road. Hunter Browning thinks that because he's famous, he can fix everything with a smile and a wave of his hand. He's too bronzed, buff, and beautiful for his own good. Or mine. I can't let on that I'm a fan . . . no matter how much fun we'd have in the sack.
Hunter: Hitting that puddle was my best play since winning the Super Bowl with a touchdown pass. Sure, it's not my preferred way to get a girl wet, but I'll make an exception for Emerson Day. She's got a sharp tongue and a red-hot temper, even with her soaking clothes plastered to her every curve. Now I know exactly what my next play will be: hire Emerson as my personal real-estate agent, save her job—and see if I can take her off the market.