In The Simplicity of Cider by Amy E. Reichert, Idun's Orchard has been in Sanna Lund's family for many generations and some would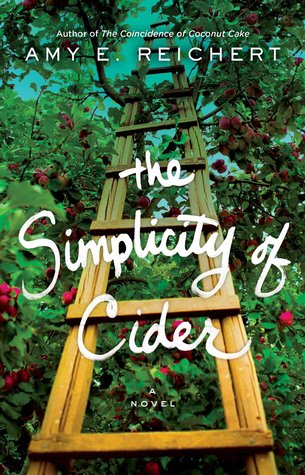 say it's part of the heart and soul of Door County, Wisconsin. For years it has been her and her father running the apple orchard, with Sanna tinkering away with her cider recipes on the side. But a new investment meant to boost cider production has put the orchard in a precarious position financially, unbeknownst to Sanna. When her brother begins pushing them to sell the orchard, she'll be forced to take a look at where her future is headed and how to save the family legacy.
"You don't like me very much, do you?'
…"It's not personal. I don't really like any children."
She wasn't sure what she expected him to do. Cry. Call her names. Stomp off and tell his dad. He did none of the above. He nodded his head and went back to sweeping.
"Maybe I'll be the first."
To add to the complications, Sanna's father hires Isaac Banks and his ten year old son Sebastian, aka Bass, early in the growing season which is unusual. But it comes in handy when her aging father takes a bad tumble off a ladder and will have to spend the summer recuperating. Isaac turns out to be a godsend to Sanna and she's even pleased with how Bass steps up to help out as well. Her growing feelings for the handsome California guy, however, are unwanted yet they won't go away. And if there's one thing Sanna has promised herself it's that she'll never risk her heart getting hurt. But as the summer wears on and both Isaac and Bass work their way further into her life, she wonders if maybe the time has come to take a risk after all.
Isaac pressed his cheek to hers and softened his voice to a whisper in her ear. "Holding you in my arms right now is like holding a wish. You are magic to me."
Amy E. Reichert is back, this time with The Simplicity of Cider, giving us readers a story that was anything but simple. Filled with complicated family drama, big personalities, and an even bigger unexpected attraction, the emotions ran deep and true in this lovely work of fiction.
'This moment was perfect. While they weren't a true family, this feeling, this contentment, this connection was what had been missing from their lives.'
I have to admit that I wasn't entirely on board with our heroine Sanna when we first met her. She seemed a tad selfish and more than a little curt with everyone. But as the story developed and we got to see *why* Sanna shut everyone out, I got it. And I thought her bluntness actually worked well (for the most part) in dealing with her new working companion, wise beyond his years, ten year old Bass. They made a unique pair but there was something about their conversations and the way they understood each other that just made me smile.
Now our hero Isaac, well, I liked him from the start. Although he was keeping a big secret from his son and Sanna, which came back to bite him, I thought he was a terrific father and a genuinely caring guy. Watching Isaac's joy in spending the summer with Bass and seeing their interactions was a beautiful thing. And I liked how his feelings for Sanna grew slowly but surely, and that he was there for her every step of the way through her tumultuous summer. They made a nice couple who balanced each other out well. There was one scene that particularly showed how thoughtful Isaac was and made me fall for him every bit as much as Sanna did! *dreamy sigh*
Written with an eye to detail, a sense of whimsy, and a raw honesty that I have come to expect from her work, Amy E. Reichert's latest absorbing novel will undoubtedly find its way onto readers' book piles, capturing first their attention and then their hearts.
Book Info:

Publication: May 16th 2017 | Gallery Books |
Fall in love with The Simplicity of Cider, the charming new novel about an aloof but gifted cider-maker whose quiet life is interrupted by the arrival of a handsome man and his young son at her family's careworn orchard by the author of The Coincidence of Coconut Cake and Luck, Love & Lemon Pie.
Focused and unassuming fifth generation cider-maker Sanna has one desire: to live a simple, quiet life on her family's apple orchard in Door County, Wisconsin. Although her business is struggling, Sanna remains fiercely devoted to the orchard, despite her brother's attempts to convince their aging father to sell the land.
Isaac Banks has spent years singlehandedly trying to shield his son Sebastian from his troubled mother. Fleeing heartbreak, Isaac packed up their lives and the two headed out on an adventure, taking odd jobs as they drove across the country from California, pulling up to Sanna's orchard at exactly the right time…
Isaac's helping hands are much appreciated at the apple farm, even more when Sanna's father is injured in an accident, leaving her as his sole caretaker. As Sanna's formerly simple life becomes increasingly complicated, she finds solace in unexpected places—friendship with young Sebastian and something more deliciously complex with Isaac—until an outside threat infiltrates the farm. Can Sanna save the orchard and her budding romance? Or will she lose more than she knew she had?
From the warm and funny Amy E. Reichert, The Simplicity of Cider is a charming love story with a touch of magic, perfect for fans of Sarah Addison Allen and Gayle Forman.