Down Shift by K. Bromberg: Zander is on a downward spiral. He may be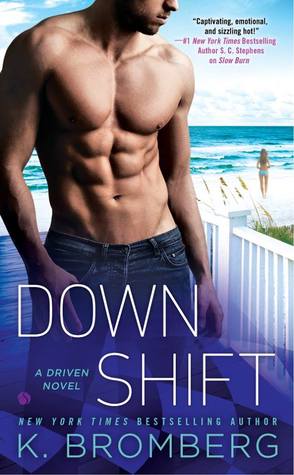 one of the top race car drivers, but he's out of control when he's not on the track. He's so busy trying to push everyone away that he's lost sight of what matters to him. The last thing Zander wants is time away from racing, but he doesn't exactly have a choice.
Getty is determined to find herself again. Leaving her life behind was incredibly difficult, and she's going to make the most of her second chance. Getty is happy to live a simple life on the island as a bartender and spend her free time painting. Painting is her way to work through her emotions and pain from her past.
Getty is beyond grateful to have a place to stay on the island, even though it is a fixer-upper. The locals have mostly left her alone, for which she is grateful. So, she is definitely shocked when Zander has made himself at home in her safe haven. Neither wants a roommate, much less one of the opposite gender, when they have to deal with their respective baggage and fix themselves.
"Are you answering a question with a question, Mander?"
"Only if you're going to keep avoiding answering it." Our eyes clash in a battle of wills as the smirk on his lips challenges me to talk.
I sigh in resignation. "What was the question again?" I ask, knowing damn well what it was.
The sparks are definitely there from their first memorable meeting. They form an uneasy truce to be reluctant roommates and stay out of each other's business. Both see past the mask the other shows to the world and feel the connection they are hesitant to act on. Zander can by moody, but he's also kind, generous, and thoughtful. He's an irresistible adrenaline-junkie who pushes Getty to let him in and trust him. And Getty pushes him right back.
"Yes. No. I don't know."
His eyes widen in shock. Just for a moment. But my smile tells him the real answer. "Cute. Very cute, but this time you only get to pick one answer."
"Only one?"
"And here starts the questions to the questions," he says, laughing and shaking of his head.
Down Shift is one of those books that I just didn't want to put down. It had drama, heat, angst, and romance. K. Bromberg brought the characters to life and lived up to the promise of Zander as a man. Ms. Bromberg created engaging and well developed characters with great interactions. Down Shift can be read as a standalone in the Driven series, but fans of the series will love seeing Rylee and Colton as Zander's parents. Fans of Katy Evans, Raine Miller, and Tessa Bailey will enjoy Down Shift.
Book Info:

Publication: October 11th 2016 | Signet | Driven #8
The New York Times bestselling Driven series continues with a standalone story about finding love where you least expect it…
Behind the wheel, racing champion Zander Donavan is at the top of his game. But after too much excess in his personal life, he's forced to step away. He needs to accomplish something all on his own—outside of his famous father's shadow.
Getty Caster is running away from the abuse that clouds her past. She thinks she's found the perfect escape—until she discovers a stranger in the beachside cottage she'd been promised. He's undeniably sexy, but she's there to heal. Alone.
Before long though, fighting with each other turns into fighting their attraction. And giving into desire sets off a chain reaction that has their pasts colliding. With an unexpected love on the line, can they overcome the fallout to build a future?