Getting Dirty with the CEO by Mia Sosa delivers romance that is sexy,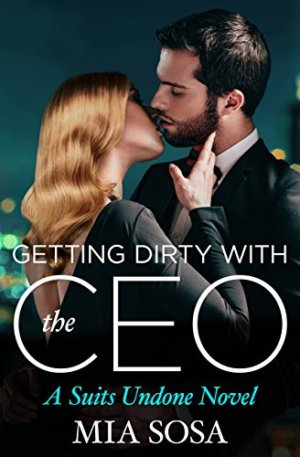 sensual, and sophisticated. This is the third book in the Suits Undone Series and the best yet, which is saying something because I really loved the previous books!
Mimi Pennington is a publicist who knows her job. She's smart, sexy, and when it comes to men, she knows how to play the game. When it comes to romance, she's a little more guarded and builds walls that give her the upper hand.
Daniel Vargas wants Mimi. The attraction between them is instant and uncontrollable. When Daniel sees a chance to bring Mimi to him, he jumps at it, but in doing so, he unknowingly puts up more walls between them. See, Mimi has these rules about mixing business with pleasure and since Mimi is the best person for the job, Daniel must learn to keep things professional or throw all his efforts into one heck of a seduction in the hopes of getting her to change her mind. Guess which he chooses?
"What if she channeled all her passion in a different direction? To his bed, for instance."
Mimi protects herself based on what could happen and ends a relationship before it has the chance to go anywhere. When things get serious between Daniel, will she put the brakes on their relationship and ruin the best thing that has ever happened to her?
I loved Mimi and Daniel together. These two really complete each other and I know that sounds corny, but it's the truth. The attraction, their ability to verbally spar with each other, and the way they understand each other, in ways other don't, make Mimi and Daniel absolutely perfect for each other.
Sosa excels in creating entertaining dialogue and characters who always surprise me. Well-written words, witty banter, and characters who will keep a smile on your face throughout the whole book, make Getting Dirty with the CEO a must read!

Book Info:

Publication: October 4th 2016 | Forever Yours | The Suits Undone Series
Sometimes you have to get a little dirty to get what you want.
Publicist Mimi Pennington is at the top of her game. She's savvy, hard-working, and eager to move up the corporate ladder. So when her boss tells her that in order to make partner she has to land a prestigious account, Mimi meets the challenge head on. Never mind that the prospective client is Daniel Vargas, the polished and pompous player who rejected her months ago.
Mimi hasn't given Daniel the time of day since their one fateful encounter, and while business has brought them back together, pleasure is what he has in mind. She says she's not interested in giving him a second chance, but Daniel is prepared to call her bluff. All he needs is one week. One week to test her rules and prove that he's exactly the kind of man she needs . . .