Drawn Deep by Taryn Quinn is book two in the Afternoon Delight series, but can certainly be read as a standalone. I'm not usually a fan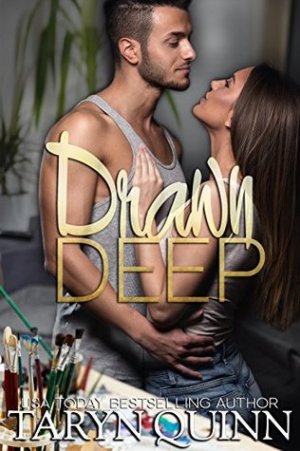 of older women and younger men, but this story caught my attention. There was just something about a cougar and a virgin that piqued my interest.
Kim O'Halloran dates younger men, but at the moment she's taking a break from them. She thinks it's time for her to find a man her own age. At least that was the plan until her erotic art class. She gets more than she bargained for her when Michael Montgomery poses nude for her class.
Michael is a mechanic who works for Kim's brother. Kim thinks this is the first time she's seen him, but they've met before. It's easy to see that they both want each other, but he's keeping secrets. Secrets such as he's secretly wealthy and also a virgin. The way he inherited his money, is also very interesting, but I'll let readers find out for themselves how he became a millionaire.
I liked Michael, but his story is a little unbelievable. I get why he hides his wealth, but the part where he models naked for an art class but is a virgin, is a bit too much for me. But that's the beauty of fiction. As for his character, he's definitely swoon-worthy. His feelings for Kim are always on display and he's a quick learner…if you know what I mean. Together they easily burn up the sheets.
I enjoyed the banter between the characters and their overall romance. If you're a fan of younger men with older women, let your inner cougar out and jump into the story.

Book Info:

Publication: June 20th 2017 | Taryn Quinn | Afternoon Delight Book #2
His cherry is hers for the taking, any way she likes it…
Kim O'Halloran is on a break from dating younger men. Then her erotic art class instructor puts a sexy, intriguing male model in front of her sketch pad and whoa, nelly, does she really have to give up cougaring now?
Nah. No reason to be hasty.
Better—or worse—yet, she discovers the man she wants to sketch with her fingers is also a virgin. And he's asking her to corrupt him a time or two hundred.
Mechanic and secret millionaire Michael Montgomery may only be in his mid-twenties, but he knows who he wants. Kim's self-confident and funny and she's exactly the right woman to make him take his needs…ahem…in hand. All of them.
Screw the lousy timing. Boundaries are obviously meant to be overcome—in the bed, on the couch or against the car. Kim doesn't mind teaching him, in vivid detail, how to please a woman, but Michael intends to teach his commitment-phobic lover a few things about love.