Dream Nights with the CEO by Kathy Lyons: Megan has worked hard to get where she is in her career…assistant to (hot) hotel chain CEO Wyatt Monroe. As hot as he is and as much as she notices him, she manages to maintain a professional relationship with him, not giving away her secret desires.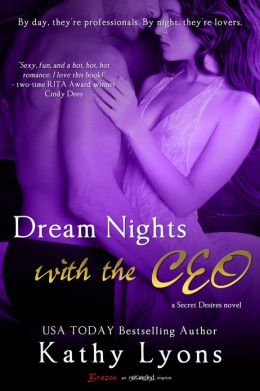 CEO Wyatt reads cartoons. In his fantasies he is a super hero rescuing damsels in distress. Fantasy only, because in reality Wyatt has no time or inclination for relationships. He just does not do them.
Staying the night at a B & B they are checking out as a potential buy for Wyatt's chain, the dreams begin. With the help of the local pirate ghost working his magic, Megan and Wyatt start having some really hot, erotic dreams…about each other! Both of them have the same dreams (unknown to each other)… It is getting harder and harder for them to ignore their attraction to each other, even though they have never admitted it to the other, they have both felt it from the time Wyatt spotted Megan working as a maid in her tie died t-shirt. This is pretty hard to conitinue doing though when after being forced to spend the night in the same suite, both of them dream and somehow actually wake up naked and entwined together! Neither is sure if anything actually happened…but they are now sure to make it happen anyway!
The line between employer and employee is no longer an issue either. Wyatt is very impressed with Megan's work and aspirations that he promotes her to partner. They have known each other for years and between the dreams and the steam enhancing their reality, it's not that much of a step for them to take their relationship to the next level. And sometimes dreams become a reality…not always one you're ready for.
I really liked both Wyatt and Megan, they really complemented each other well. Megan has worked hard to get where she is. She's not risking anything, but she's not backing down and playing coy either. She believes in true love and happily ever afters. She is coping very well in her life, even if it has lacked romance up to now, her mother is over bearing and miserable – Megan does her best to cope with it all.
Wyatt is a multi-millionaire comic reading CEO who is all about work. He's never felt like he would ever have a happily ever after, in his mind he's not a good candidate for a romance and relationship. Can Megan show him otherwise?
Dream Nights With the CEO was an easy, quick read. Kathy manages to interweave the romance with the paranormal in a unique and fun way! I loved the scheming ghost, doing his best to bring lovers together. Fantasy doesn't need a clear cut explanation…it's fun and leaves your imagination running free! Imagine having dreams like that and discovering you're not as alone as you thought!!
I'd recommend this to anyone who wants a hot romance with a paranormal aspect to it!
Book Info
Publisher: Entangled: Brazen (May 27, 2013)
Hotel chain CEO and millionaire Wyatt Monroe is a stick in the mud. Sure, he's hot as sin, even with the tie, but free-spirited assistant Megan Bradford refuses to jeopardize their perfect working relationship. Why mess that up with sex? She knows he's the love 'em and leave 'em type, and she's determined to find a family man.
Wyatt would never cross the line between boss and employee with Megan, no matter how hard it might be to resist the temptation. But when they visit a mysterious B&B in a bid to acquire the property, he starts having erotic dreams about the sexy brunette that make it hard to resist her in daylight.
Soon the line between reality and dreams further blurs when they learn they were sharing the same erotic dreams…