In The Secret Casella Baby by Cathy Williams, Holly George wants a husband and children but she knows that she is ordinary looking, and she hates the city, she is most comfortable in her animal sanctuary, where she is not likely to run into eligible men.
Luiz Casella is going through a rough spot after loosing his father and having to look after his mother and sisters. He is happy in England, but his family is all in Brazil and now he must look after the family company as well, something that he is not interested in.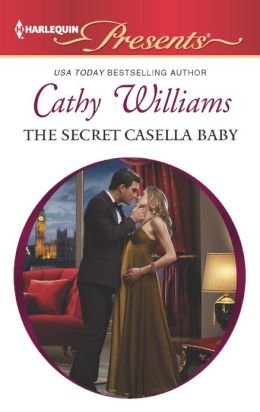 Trying to drive away from everything Luiz suddenly finds himself  in danger when a giant rock slides of the mountain and heads straight towards his car. Now his car is totaled and he is injured, and with no cars coming his way things can be a little dangerous for him. Holly knows all the sounds of her backyard and she knows that someone had an accident and she is the only one that can find them faster than anyone else and she is the closest than any emergency service.
When Luiz realizes that Holly has no idea who he is, he decides to use a different last name. Women have always approached him for his money, but Holly seems different, she has no idea who he is but she still likes him. As they start an affair that last longer than any other Luiz has ever had, Holly wants to know where their relationship is going, but Luiz wants nothing permanent with her or anyone. But when she finds out that she is pregnant he will have to find a way to convince her to forgive his lies and to accept that his love is real and not something he is saying for the sake of the baby.
Luiz had been used by other woman in the past, but having someone to like him without knowing about his money is a novelty he loves, but a lie that will land him in a lot of trouble.
Holly's self-esteem has always been low and Luiz made her feel beautiful and loved but when she personally meets the model type women that he usually dates her self-esteem takes a nosedive. It will be up to Luiz to prove to her how much he loves the way she is and the way she looks.
If you want a sweet, hot and entertaining read The Secret Casella Baby by Cathy Williams is the one for you.
Book Info
Publication Date: April 23, 2013 | Series: Harlequin Presents (Book 3142)
How does it feel to be one of the beautiful people?
This is a question ordinary girl Holly George never thought she'd be able to answer! Until one sizzling night with brooding Brazilian Luiz changes her life. Not only is Luiz Casella a billionaire—but now Holly is expecting his baby!
Holly can don all the silk and diamonds Luiz can shower her with—but she'll always feel most comfortable working at her animal sanctuary. Yet it seems she might have to get used to living in the world of the rich and famous….
For, a Casella heir cannot be born out of wedlock!