In Drive You Wild (Love Between the Bases #3) by Jennifer Bernard, Every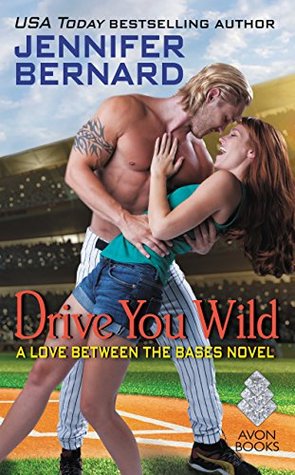 time Trevor Stark goes up to bat for the Kilby Catfish, he's in the zone and knows exactly how to intimidate the opposing team. Actually, the left-fielder has learned to intimidate just about everyone over the years, hiding his troubled past behind that icy exterior. But somehow Paige Taylor, his boss's daughter, sees right through him. Even though Trevor would love to see just how hot the chemistry really is between them, he won't put Paige in danger. And that's exactly what would happen if let himself get tangled up with the beauty.
"We have to talk, Trevor," she said firmly. "We can't just keep tiptoeing around this attraction of ours. It's not going away. It's doing the opposite."
He spun away from her, raking a hand through his light hair. "I'll keep a lid on it. I'm sorry. I can control myself."
She snagged his forearm, feeling each taught muscle flex. "What if I don't want you to control yourself?"
Paige figured showing up at her father's Bullpen Ranch in Kilby, Texas would give her some time to get over her divorce and figure out what to do next. She didn't think she'd get signed up as an intern at the ballpark or that she'd fall head over heels for Trevor Stark. With Viking good looks and a wickedly dirty mouth, Paige knows she's in trouble when it comes to the talented ballplayer. And once she realizes what a genuinely wonderful person he is beneath the tough persona? She'll do everything in her power to prove to him that he's worthy of her love and all the good things that are surely headed his way.
"I love you." he staggered under his armload of sweet, passionate Paige.
"You love me?" Her face lit up with so much sheer delight that he couldn't help laughing.
"Is that such a surprise? You're fucking irresistible. You're like catnip or pancakes or a cold longneck on a hot day." He grinned, feeling as light as a long ball hitting the air currents.
Baseball fever ran rampant in Drive You Wild. Kilby's beloved group of rowdy ballplayers gave their all trying to get into the playoffs, including their hitting machine Trevor Stark. But he had more action and drama off the field once the lovely Paige Taylor set her sights on the handsome left-fielder.
Jennifer Bernard's Love Between the Bases series has been an absolute joy to read so far. And I'm falling more in love with the team and the quirky townspeople with each new story. There's such a great combination of down home Texas charm, comical antics from the players, their love and passion for the game itself, and the feisty women who fall in love with the talented guys. It all melds together to create sexy, completely enjoyable romances that make me smile as much as they make me sigh happily.
I was so happy this was Trevor's story after the glimpses we've got of him in previous installments. It was clear that there was a lot more to him than his icy persona let on. And after learning about his troubled background and what he did for his family, well, he's a stand-up guy in my book. Trevor's character growth was huge over the course of this book and it was really what stood out to me. He didn't believe his worth or that he deserved good things in his life and it took Paige with the help of his teammates to get that through his head. I loved the ending even if it seemed like things were tied up perfectly in a bow. If any character deserved a HEA, it was Trevor.
Paige was a great character as well. She was still reeling emotionally from her divorce and losing the guy she had considered her best friend. She was a wonderfully compassionate person who others might have thought was too kind, but I loved her giving nature. And it was just what Trevor needed in his life so it made them a perfect match in my eyes. I thought she was also a fun young woman who was still learning who she was as an individual. Especially in the romance department. Trevor brought out the inner vixen Paige never knew was trying to get free and it made their romantic scenes super sexy and so naughty. I just loved their flirty conversations!
Drive You Wild can be read as a standalone or as part of the Love Between the Bases series. Either way, I think romance fans will have a great time getting to know Trevor and Paige as we followed along on their bumpy ride to a fairy tale ending.
Book Info:

Publication: June 28th 2016 | Avon | Love Between the Bases #3
It's game on for love in the third novel of USA Today bestselling author Jennifer Bernard's sexy, baseball-themed series
Kilby Catfish left-fielder Trevor Stark is a ballpark legend. With his good looks, hitting records, and played-for-the-fans arrogance, Trevor makes women lose their minds and men lose their cool. But every time the major league team comes calling, Trevor purposely keeps himself in the tiny Texas town. Why is heart-tuggingly top secret. Until the team owner's daughter comes to Kilby . . . trying everything up her sexy sleeve to make Trevor talk.
Divorced and disillusioned at twenty-three, Paige Mattingly Austin Taylor is suddenly starting fresh as an intern at Catfish Stadium. She should want nothing to do with the sinfully hot ballplayer her dad warned her to stay away from. But when she discovers what Trevor is hiding from everyone, she realizes there's much more to him than his face and multi-million-dollar arm. There's a heart she seriously hopes to win.