In The Girl He Used to Love (Grace Note Records #1) by Amy Vastine , Faith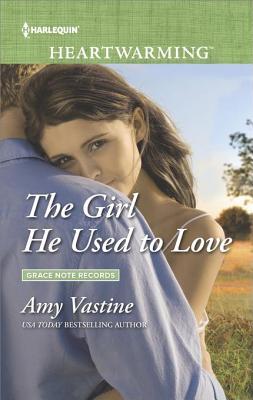 Stratton and Dean Presley kept their romance a secret from those important to them. But when her best friend, the girl that also happened to be Dean's sister finally learned the truth, tragedy struck and tore their relationship apart. The blame game was played, and Dean hasn't been able to forgive her. But now, Dean is back in Grass Lake, Tennessee and determined to sign Faith's brother on with his struggling music label. Can Dean come out on top by winning Faith back and making her brother a star, or will he break Faith's heart all over again?
His wide eyes showed his surprise. He held a hand waist high. "That's your little brother?" Twelve years ago, Sawyer had been a scrawny middle-schooler.
"That's what my daddy told me when they brought him home from the hospital. Although, I often wonder if the doctors pulled a switcheroo." Her attempt at lightening the mood fell flat.
What a heartwarming and emotionally-gripping second chance romance Ms. Vastine has penned, which had me flipping the pages quickly once the hero and heroine came face-to-face again for the first time in years. I really liked how this story opened with how luck was a funny thing, and people getting good luck and bad luck. Dean definitely has bad luck with what happens with his car, yet, at the same time, his luck might have turned around the moment Faith comes back into his life.
The dialogue was intense due to the main characters back stories, Faith's abandonment issues and the reason Dean wants to sign her brother to his record label. Will Dean get his wish? Will Faith lose the only person she has left to a career where things might not work out for him? Will Dean and Faith forgive each other, especially when they learn the truth about his sister? Moreover, there was some really good playful banter between Dean and Faith, as they reminisce on the past. Moments that had me smiling, because they really loved each other and it was unfortunate that they couldn't work out their problems since they needed the other to help them work through their grief.
"I'm an expert at leading people where I want them to go."
"Well, I can only speak to your expert walking skills," Faith returned, that unpleasant smile still plastered on her face. "You walk away really well."
Dean's shoulders tensed. She was pushing all the right buttons.
Faith and Dean were both compelling characters, and I liked how much of a challenge the heroine provided the hero. Would he get his way, or would she manage to convince him of how much she needs her brother? Faith has overcome so much in her life, and I could understand why she fought tooth and nail with Dean about her brother. She doesn't want to lose anyone else, and believes that's exactly what will happen if the hero signs her brother to his record label. She's also hard-working, kind and caring because of the work she does on her ranch in helping children.
While Dean, he's worked hard to get where he is and isn't about to give up on signing Faith's brother, because he needs him to get his struggling record label back on track. He's also confident and determined to get his way; even if he has to manipulate Faith by doing things that she wants him to do, so she'll give him a little leeway with her brother. Moreover, I could understand why he blamed Faith for what happened to his sister. Yet, once he learns the truth, I'm glad he realized how wrong he was and that he left her at a crucial moment in their lives when she needed him most. Can he make it up to her? Can he convince her to give him a second chance?
Overall, I really liked this book, which encompasses the second chance romance trope and characters with a heartrending history between them that will have readers cheering for this couple's happy ever after. I really liked how this story ended, as it took me by surprise with the way Faith and Dean ended up getting what they both wanted, even though it didn't seem possible. I would recommend The Girl He Used to Love by Amy Vastine, if you enjoy characters that have quite a painful history between them and end up getting a second chance at love.
Book Info:

Publication: July 1st, 2016 | Harlequin Heartwarming | Grace Note Records #1
The past will always be between them.
He swore he'd never return home. Then a flat tire lands Dean Presley back in Grass Lake, Tennessee, and he's forced to confront the woman he left behind. Faith Stratton was once the love of his life. Now her gifted brother could be the rising Nashville star Dean needs for his struggling music label. But it means taking Sawyer away from the horse therapy farm that Faith's so proud of. That won't be easy, especially since those old feelings that started all the trouble… Well, let's just say he can't go back there, because he doesn't want to relive the memories of the terrible accident that drove them apart.