In Driving Her Wild (Wilinski's #3) by Meg Maguire, newly retired professional Mixed Martial Arts (MMA) fighter Steph Healy, wants to settle down. She is thirty and her biological clock has just started to count down. For over a decade, Steph has dated men who were good-looking, financially unstable and rough around the edges, which includes some fellow fighters. While her job as a trainer and instructor is fulfilling, it does not pay very well.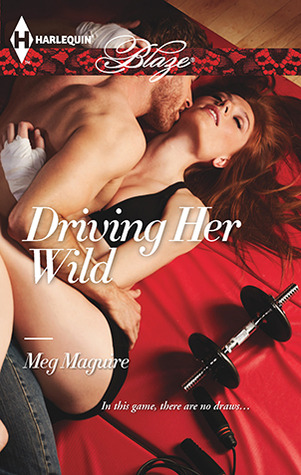 She has no desire to live the way her parents did, from paycheck to paycheck. She wants to find a true a gentleman, a man that will wine and dine her and provide the financial security she so desperately craves. Steph is a cute redhead, but some guys find her intimidating because of her occupation. So joining the upscale dating service Spark, is the first step to finding the man of her dreams.
Tradesman Patrick Doherty is a kind, nice looking man with a hot body. He is a master carpenter, but due to the poor housing market, making a decent living doing what he loves is impossible. So he takes whatever jobs he is offered in order to pay the bills. In addition, keeping up with the mortgage has been a struggle since his divorce. This week he is an electrician, rewiring some the electrical in the MMA facility where Steph now works.
Steph and Patrick do not hit it off immediately, but after spending an entire night together because of the faulty wiring in the gym, there is a spark that eventually leads to more.
This book did not work for me. To begin with, I never felt the romantic connection between the two main characters, Steph and Patrick. Steph was constantly reminding Patrick that she was not interested in him in a romantic way, to the point where I began skimming through some of her tirades. Steph's need to be dominated in bed seemed completely disassociated from the plot, and I found her to be incredibly whiny throughout most of the story. I liked Patrick because his heart was always in right place, he wore his emotions on his sleeve and he never stopped trying to achieve his goals.
Book Info:

Published October 22, 2013 by Harlequin Blaze (Book 773)
Winning is good. Succumbing is even better…
Evasion
Recently retired pro MMA fighter Steph Healy is through having rough-and-tumble romps with sexy blue-collar dudes. Unfortunately, Wilinski's Fight Academy has hired an electrician with a body built to make a gal weep. And avoiding some full-body contact is taking all of Steph's self-control.
Grapple
Carpenter-turned-electrician Patrick Doherty is damn good with his hands. Sure, he's not what Steph is looking for—yet. But he's about to prove that she has seriously underestimated her opponent….
Submission
The moment Patrick has her deliciously pinned, Steph knows she's in deep, deep trouble. Because this seemingly mild carpenter has the mastery to give her exactly what she needs…and this is one takedown she's willing to take lying down!