In Dylan's Redemption (The McBrides #3) by Jennifer Ryan, Dylan McBride's eighteen year old heart broke when he learned the girl he loved, Jessie Thompson, was missing and thought to be dead at the hands of her abusive father. Since then, he has dedicated his entire career in the Army and then in law enforcement to helping those in need. Dylan came back to his hometown of Fallbrook to become sheriff, hoping he could find out what really happened to Jessie. But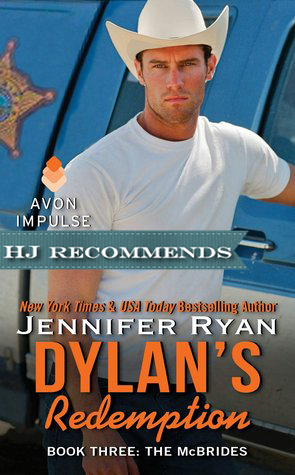 after her father passes away, she suddenly reappears in town to make final arrangements. Dylan has never stopped loving her and now that he's been given a second chance to have her in his life, he is determined to get answers and then spend the rest of his life taking care of Jessie in every way possible.
'Dylan hoped he had it in him to heal Jessie's heart and win it back. He'd never stop trying, not until he had Jessie again. This time, he'd love her the way she deserved to be loved.'
Alone, scared, and hurt, Jessie Thompson left Fallbrook at age fifteen with nowhere to go. She's had to deal with more than her share of terrifyingly real moments in her life, but has managed to finish her education and build a successful business for herself. Going back to her hometown and making arrangements for her father's funeral is the last thing she wants to do, yet she knows it's time to face her demons. One of the first ones she faces down turns out to be her childhood best friend, and love of her life, Dylan. The anger she's directed at him for the past eight years may have been misdirected, as she uncovers the truth about how they were dismissed from each others lives. With both of them hiding secrets, it will take a lot of time and serious talks to get back to where they can begin to trust again.
'In that moment, she realized just how much she'd missed having him in her life and how lucky she was to have him back.'
Dylan's Redemption was a bittersweet second chance romance that ultimately ended in a Happily-Ever-After, but our hero and heroine went through hell and back to finally get there.
Book three in the McBrides series is all about Jessie and Dylan. Previous books have eluded to their stormy past, so we get the complete rundown of what really happened here. One thing I can say about author Jennifer Ryan's stories is that she doesn't make it easy on her characters to find their happy place! There was lots of drama, and both Jessie and Dylan had hidden secrets to deal with before they could even think about trying to form a new relationship. I'll be honest: what they both went through was raw, painful, and not for the faint of heart. I found myself a bit teared up on more than one occasion while they relived prior events. And there was a pretty heavy focus on those events, with the storyline circling back to it quite a bit, so much so that at times it seemed like they were not really moving forward. But that did work itself out toward the latter half of the book.
In some stories, there is a character that is the absolute definition of evil. Without giving away the plot, there was a particular character here who fit that description and who shocked me with just how horrible they were to Jessie and Dylan. (No it's not Jessie's Dad…although he was certainly terrible.) It was heartbreaking to see how that one person changed their lives, not for the better, and could have prevented two people who loved and protected each other from parting ways. I did love how Jessie was able to transform herself into such a strong, levelheaded, kickass woman after her bum rap of a childhood. Dylan, too, dedicated his life to helping others after not being able to protect Jessie more as a teenager. These stand-up, kindhearted characters are something I truly treasure in contemporary romance as they are wonderful role models who prove the good guys *can* win.
I'm so happy to finally get Dylan and Jessie's story. And even more happy that it all worked out for them. Whether or not you have already been following this series, you can enjoy this as a standalone and see these two deserving people get their chance at forever.
Book Info:

Published August 12th 2014 by Avon Impulse | (The McBrides #3)
There's a new sheriff in Fallbrook … Meet Dylan McBride.
Jessie Thompson had one hell of a week. Dylan McBride, the boy she loved, skipped town without a word. Then her drunk of a father tried to kill her, and she fled Fallbrook, vowing never to return.
Eight years later, her father is dead, and Jessie reluctantly goes home—only to come face-to-face with the man who shattered her heart. A man who, for nearly a decade, believed she was dead.
Dylan accepted the position as sheriff of Fallbrook looking for a fresh start and a chance to uncover the truth about Jessie's disappearance. He knew he'd have to face a few ghosts … he just never thought one would be Jessie, all grown up, stunning … and alive.
The pull between them is instant, but Dylan's heart has already mourned Jessie, and she has secrets she can never share. Can they escape the darkness of their past for a chance at a bright future together?