Getting Dirty (Sapphire Falls #3) by Erin Nicholas: Ms. Nicholas repeatedly delivers fun-to-read books, and the third book from her Sapphire Falls series, Getting Dirty, is no exception. After reading the first two books, I found this one to be the most humorous. This story is centered around successful farmer Travis Bennett and Lauren Davis, a hot scientist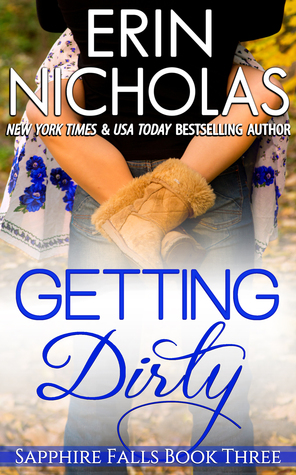 from the city of Chicago.
Lauren was introduced in the first book, which was primarily about agricultural genius Mason Riley, Lauren's business partner. Mason grew up in Sapphire Falls and when he returned for a visit years later, he fell in love with a local woman. As a result, Mason relocated himself and the agricultural department of their company to Sapphire Falls. Thus, Lauren finds herself in the small town quite regularly.
Lauren is the brains behind their company's ability to attract governments and private sector businesses. The combination of her business acumen and expertise in water and soil conservation, puts food on the tables of the poor. She loves her life in the city, however she enjoys small town living as well. In a nutshell, when Lauren is in Sapphire Falls, she needs a distraction to prevent herself from falling in love with it. So she asks Travis to help her hate Sapphire Falls. Since Travis is attracted to Lauren and loves goring her ox, he agrees to help her hate his hometown.
Travis is a trip, in addition to being a great-looking guy and a good friend to all. He is one of those guys whose very presence is an attraction, much like Lauren. He loves his life as a farmer and has no desire to explore the outskirts of the city he lives in.
Lauren and Travis are a hoot together. Both are fighting their attraction to each other while they try to turn each other off. Their ability to accomplish their goals is extremely entertaining. Their sexual tension is amazing, as they continue to deny what is really happening between them. Once they give in to their feelings, the sparks ignite and their passion is tangible. Overall, I liked this book and I look forward to the next one in the series.
Book Info:

Published August 21st 2014 by Erin Nicholas (first published August 19th 2014) | (Sapphire Falls #3)
Travis Bennett is exactly the kind of guy Lauren Davis has been avoiding for the past nine years. Religiously. Stubbornly. Successfully. She knows too well how easy it is to let lust ruin perfectly laid plans. And a small town farmer with no ambitions beyond the borders of his own cornfield is not going to change her mind. She's got important stuff to do. Her company is literally working to stop world hunger. Her plans are much bigger than Sapphire Falls. No matter how hot those farmers might be.
The problem is—Lauren is falling in love. With Sapphire Falls. To kick her sudden desire to buy a welcome mat and start baking pies, she asks Travis to help her get over her crush. She wants him to show her what life in the small town is really like behind all the sweetness and sunshine and remind her that there's no place for French manicures and Gucci heels on the farm.
Travis has everything he wants or needs—a quiet, simple life in his hometown, a successful farm and his friends and family all around. A hoity-toity city chick who looks down on everything from the local coffee to his favorite music is the last girl he wants sticking around. So he agrees to her crazy plan. He can definitely show her the less-than-glitzy, rough-around-the-edges side of Sapphire Falls. In fact, things just might get downright dirty.