Earl on the Run is the second book in The Duke's Estates series by Jane Ashford. We met Harriet in the previous book, The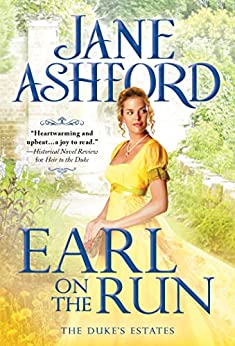 Duke Who Loved Me, when she becomes friends with Cecelia. The series is be based on gentlemen who have inherited titles they do not want and do not know how to manage their newly inherited estates. The previous book was somewhat disappointing, so I was looking forward to this one but was also wary going into it. I found this book to be more engaging, wittier and had more likable characters. The pacing was better and my interest was more engaged.
Harriet Finch grew up in genteel poverty but now finds herself to be the sole heir of Mr. Winstead, her maternal grandfather, who cast out Harriet's mother when she married a commoner. After finishing and failing her first season, where she found the gentlemen only wanting to marry her for her grandfather's money, the family traveled to her grandfather's country house. Mr. Winstead was determined Harriet would marry a titled gentleman and threatened to disinherit Harriet and her widowed mother otherwise. The only peace Harriet found from her rude grandfather and her anxious mother was walking the grounds of the estate. While walking she meets an intriguing and handsome man who she thinks is a rogue and is staying with the Travelers that are on the earl's estate.
The surprised new Earl of Ferrington, Jonathan "Jack" Merrill, found himself leaving Boston and moving to England to meet his father's noble family who had disinherited him. Upon arriving in London, Jack was greeted by Lady Wilton, his great-grandmother, who criticizes him and expresses her displeasure with his mannerisms. He thought about returning to Boston however he was interested in seeing Farrington Hall, his ancestral home, so he travels there with the Travelers he encounters on the way. Jack was enchanted with Harriet and wanted to tell her his true identity but her comments about nobility made him hesitate. His identity is revealed when Cecelia and her husband James (the Duke and Duchess of Tereford) arrive looking for the wayward earl. Harriet felt betrayed by Jack, but her grandfather was excited since he was an earl. Can a marriage to Harriet be enough to motivate Jack to take up the title and responsibilities?
I enjoyed this book so much more than the previous one. I loved the connection Harriet and Jack had of their parents being disinherited. Although Harriet felt betrayed by Jack's secret, it did allow their relationship to grow more than it would have otherwise. I loved getting to revisit with the duke and duchess and see how their relationship had grown. The only drawback I found of reading this book as a standalone was the reader never saw or experienced Lady Wilton's character flaws. They are discussed by the other characters, but we only see her and her rudeness in one scene at the end of the book. Therefore, readers might not really understand why Jack disappears from London and why the duke and duchess are searching for him. Overall, I liked this book better than the first and I cannot wait to read the next book.
Book Info:

Publication: February 22, 2022 | Sourcebooks Casablanca | The Duke's Estates #2
Pulled from his comfortable life in Boston by agents who insist he's the Earl of Ferrington, Jonathan Frederick Merrill―Jack to everyone else―arrives in London only to face a torrent of criticism from his great-grandmother. Angry and hurt, Jack resolves to have one look at his ancestral home, and then return to America.
Harriet Finch has been carried off to her wealthy grandfather's country house, where she's seething with rebellion. She spends her days pacing the grounds, fantasizing about a way to escape the life her grandfather has planned. There she meets an intriguing, handsome rogue. What better way to flout her grandfather's rules than to flirt with a stranger he would never approve of? But when she learns Jack's true identity, Harriet is stunned and furious at the deception! Her grandfather is delighted and insists she marry the new earl.
Can Harriet accept Jack's promise to marry her when she wants nothing more than to be free, and is Jack willing to pay the price of nobility if it means he'll have to stay in England?