In Eleanor Oliphant Is Completely Fine by Gail Honeyman, Whenever Eleanor Oliphant's coworkers ask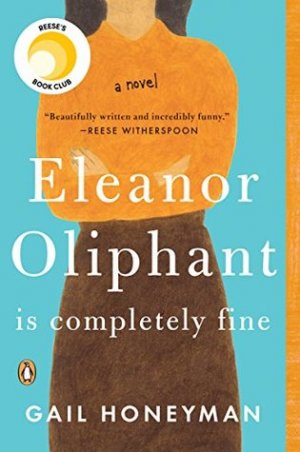 her how she is on any given day, the answer is presumably "fine." And why wouldn't it be? She has a steady, albeit non-challenging job, a flat in Glasgow all to herself, and routines to make her life easier. Eleanor knows she's considered different; that she's awkward socially and doesn't seem to care what others think of her. But in her mind, given what she can remember of her difficult childhood, having a boring, rather uneventful adult life is not a bad thing.
'If someone asks you how you are, you are meant to say FINE. You are not meant to say that you cried yourself to sleep last night because you hadn't spoken to another person for two consecutive days.'
Her well-ordered plans get shifted around, however, when Eleanor enters into a friendship of sorts with a coworker, Raymond in the IT department. And ever so slowly from there, she is introduced into more social situations and actually interacts with people. Successfully! Gone are the entire weekends where Eleanor had no one to talk to, where she would do her crossword puzzles and drink two bottles of vodka before starting all of her routines over again Monday morning. But with more social contact, memories from her troubled past resurface, also releasing emotions that have been hidden for years. Could this finally be the time for Eleanor to let go of the past and start to truly live her life?
'Was this how it worked, then, successful social integration? Was it really that simple? Wear some lipstick, go to the hairdressers and alternate the clothes you wear? Someone ought to write a book.'
A unique and impressive debut by Gail Honeyman, Eleanor Oliphant Is Completely Fine took me to places I didn't see coming, thanks to some sneaky plot twists and the disturbing incidents from our heroine's past.
'No one had ever shown me the right way to live a life, and although I'd tried my best over the years, I simply didn't know how to make things better. I could not solve the puzzle of me.'
I will be honest here: this book will not be everyone's cup of tea. Without giving out any spoilers, it started off almost reminiscent of The Rosie Project, with a socially awkward main character who, in Eleanor's case, I'm still not sure if she was "on the spectrum" or if it was her tragic past that caused her to be so emotionally stunted. Either way, I enjoyed her offbeat personality and laughed along with her at the predicaments she got into as she was trying to fit in. It will be when Eleanor's childhood–and even her early adulthood–come to light that I think it may get too intense for some readers. I can't really give any trigger warnings without giving too much away but I will say that it was based on various forms of abuse.
Even with Eleanor's pragmatic, almost judgemental way of sometimes viewing people and the situations she was in, I still found her rather endearing. I cheered her on to finally find her happy. But I could have cried over what she had endured on her own. One thing was clear though, Eleanor was a survivor. And I admired her for that. Gaining her first friend ever, a coworker named Raymond, was a huge boost for her as well. Their relationship was a pleasure to watch unfold. He was not the most lively of fellows, but Raymond was affable, and the steady, mostly positive presence I think Eleanor needed in her life. Through her connection to him, other people were also introduced into her nonexistent social circle, bringing her a bit out of her loneliness and the solitary existence she had lived with for almost a decade. And at that point was where the healing began for Eleanor–and where the most heartfelt passages are to be found in this book.
Witty and cleverly written, Eleanor Oliphant Is Completely Fine seamlessly blended the heavy, dark past of a troubled woman and the arduous path she took to become her best and truest self, finding laughter and companionship along the way. And what a rewarding journey it was.
Book Info:

Publication: May 9th 2017) | Penguin Books |
Eleanor Oliphant has learned how to survive – but not how to live. Eleanor Oliphant leads a simple life. She wears the same clothes to work every day, eats the same meal deal for lunch every day and buys the same two bottles of vodka to drink every weekend. Eleanor Oliphant is happy. Nothing is missing from her carefully timetabled life. Except, sometimes, everything. One simple act of kindness is about to shatter the walls Eleanor has built around herself. Now she must learn how to navigate the world that everyone else seems to take for granted – while searching for the courage to face the dark corners she's avoided all her life. Change can be good. Change can be bad. But surely any change is better than. . . fine?