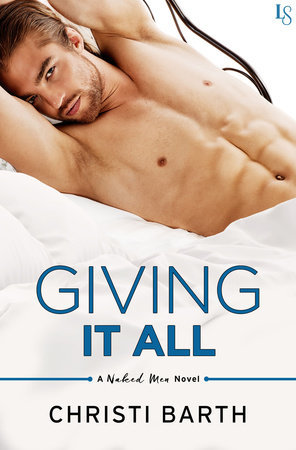 Giving It All by Christi Barth: When Logan finds out his father had a secret love child, he doesn't react too well unsurprisingly. To make up for it and to begin a relationship with his half-sister, Logan leaves disaster relief job early to fly halfway around the world back to D.C. But on his way back, he gets stuck on an island during hurricane. And who else is there but his high school best friend and crush?
Brooke wanted Logan badly in high school, but the timing was never right. But now, meeting him on a tropical island in the middle of her vacation to get away from a tragedy, Brooke wants nothing more than to finally have a night with Logan.
But what was meant to be one night becomes so much more when Logan and Brooke are both back in D.C. Neither is looking for anything more, especially Logan, the guy who runs off around the world at a drop of the hat to help those facing natural disasters. But he can't leave Brooke alone, and for once has to figure out if he can keep flying off.
Her breath hitched in, held for a couple of seconds. "You don't have to do the whole seduction dance. I'm yours for the taking."
"You picked the when and the why. I get to pick the how."
I love the Naked Men series. It's a fun idea with a wonderful crew of men and I just adore their friendship. And although Logan has been a bit of an outsider in the previous stories, he fit right in in Giving It All. His accidental wooing of Brooke is adorable. They both know the score, but can't help falling harder and harder anyways.
Brooke, too, is a sweetheart. Watching her work through this transition period and begin finding a new path was definitely enjoyable. And she stood strong throughout the story as well. A good mix of comfort and strength, a good match for the wild and free Logan.
I highly recommend Giving It All, and all of the Naked Men romances, for any reader wanting a fun and sexy read. Plus, it can be read as a standalone. It goes quickly, but you definitely don't want to leave this world, and I absolutely can't wait for the next in the series to come out.
Book Info:

 January 17, 2017 | Loveswept | Naked Men #3
Christi Barth's smoking-hot contemporary romance series continues as the five best friends who survived a tragedy as teenagers take to their Naked Men podcast to open up about women. In Giving It All, the group's globe-trotting hunk discovers that you need to go home to find love.
Logan Marsh never stays in one place for long. Through his family's foundation, Logan spends his days traveling to the world's most dangerous places to deliver disaster relief, which really puts a damper on his sex life—until he reconnects with his high-school crush. Stranded together in the Caribbean, they enjoy a steamy fling that awakens feelings Logan has ignored for too long. But family drama calls him away from her sweet embrace . . . or so he thinks.
Brooke Gallagher loved being a home economics teacher and cheerleading coach. Then an unexpected tragedy forced her to take some time off. Now she's back in D.C. and despite the intensity of her tropical encounter with Logan, she's shocked to bump into him again. Logan's dealing with his own issues (including a newly discovered half-sister) and he's itching to get back on the road. More than anything, Brooke wants to be there for him. But first, he has to decide if love is enough to keep him in one place.