In Embrace Me (Stark Ever After #7) by J. Kenner, Nikki Stark has to admit that life is pretty near perfect for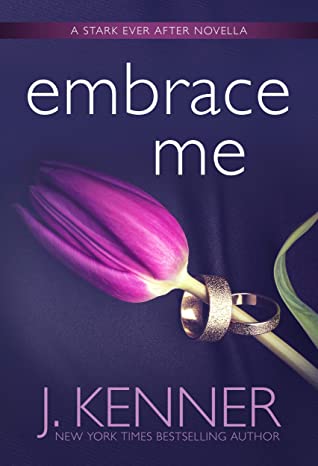 her, Damien and their daughters at the moment. Especially since she's a couple of weeks away from giving birth to their baby boy. Settling in and making sure everything is ready is front and center on their minds. Well, until Nikki's mother makes a sudden appearance, unfortunately throwing them all out of sorts. She'd like to believe that her mother has changed her evil ways and that she truly wants to be in her family's life. But after her horrible childhood, Nikki doesn't know if she can trust her mom. Stressing about it is the last thing she needs right now. So she'd better make a decision soon…
'And as I hold my husband's hand and lean against Evelyn, all I can think is how grateful I am for the people in my life who really do love me.'
Any time we get with Nikki and Damien Stark is time well spent. And with Embrace Me, we had a quick novella that basically helps readers transition into a new chapter in this power couple's lives with the impending birth of their son. As always, there was still heat and sparks galore between Damien and Nikki–but the sexy times were (realistically) a bit different thanks to her being eight months pregnant. It didn't take away from the passion, though. I mean, it *is* a J. Kenner book, after all!
'His wife, his love. The woman he would give his life for, and the woman he admired more than anyone else in this world.'
Seeing both Nikki and Damien so excited for their baby boy–aka: BBS or Baby Boy Stark–to be born was absolutely heartwarming. And I loved that they were such hands on, caring parents. We got lots of time with their two daughters as well, Lara and Anne, gearing up for their baby brother and being ridiculously adorable all on their own. Seriously. The pancake scene alone was chuckle *and* sigh-worthy.
The quick conflict in Embrace Me was centered around the unexpected arrival of Nikki's estranged mother in California. A decision about whether or not to allow her into her grandchildren's lives was made fairly fast but it seemed well thought out and right for Nikki's family based on where they were mentally and emotionally at present. You'll have to read the novella to find out what that choice was. But I think it will make readers happy to see how much Nikki–and Damien–has grown as a person and how she defines family these days.
QOTD: I'm stealing this from the end of Embrace Me where Julie Kenner asks her readers: What do *you* think Baby Boy Stark's name should be?

Book Info:

Publication: Published March 30th 2021 | Martini & Olive | Stark Ever After #7
"I never ever want to say goodbye to the Stark world! And I hope I never have to…" BJ's Book Blog
Growing up, I never expected to have so much love in my life. My childhood had been a nightmare, but despite our challenges, my life now with Damien and our daughters is nothing short of miraculous. Even better, we have a baby boy on the way, and I'm walking on clouds as I await the big day.
These final weeks should be magical, but when my mother appears on our doorstep with a promise that she has changed and a plea for us to welcome her back into our life, I'm suddenly adrift in a sea of uncertainty. Now, I'm floundering once again, tossed back into the nightmare of my past. And as the whirlpool of memories and fear once again tries to suck me under, I can only hope that Damien's strength is enough to pull me back again.