Enamored by J.S. Scott: Seth has pretty quickly created a thriving company. He's not used to the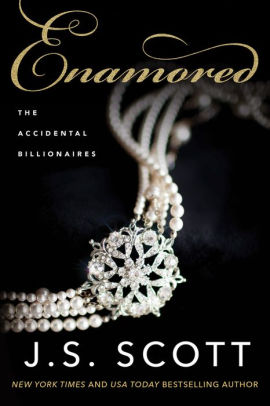 success he's achieved after working to help raise his younger siblings. He's definitely dedicated to his family and would do almost anything for his siblings. He's sexy, charming, and driven.
Riley is passionate about wildlife conservation and is a very successful environmental attorney. She may come from privilege, but she's left that life behind to champion her causes. She has found freedom in living to please herself rather than her society-conscious mother. She's bold, feisty, and a force to be reckoned with.
Seth and Riley are locked in a heated battle over the beachfront property Seth bought for his latest development. They have been arguing, mostly via email, for months and Seth has come to enjoy and appreciate Riley's intelligence and passion. Riley may not be his usual type, but she's everything he didn't know he wanted.
I grinned. "We really need to stop meeting like this."
Riley Montgomery rolled her eyes. "If you'd stop sitting in my favorite coffee shop attracting superficial women, maybe we could."
I scowled as the gaggle of young women reached our table.
Riley put up a hand. "Scram ladies. Mr. Sinclair doesn't do jailbait."
In a bid to get closer to the elusive Riley, he has a proposition for her. Seth maneuvers his way into Riley's life as his fake girlfriend and ensures that he gets to spend more time with the woman who has captivated him. Riley is wary of getting too close to Seth, especially when she's begins to see another side to the stubborn businessman. They only grow closer the more time they spend together and it's more and more real.
"How funny do you think this is now?" I asked, trying to keep the humor out of my tone.
He started to laugh again. "You caught me off guard, woman."
"I know," I said cheekily. "That was the plan."
Enamored is a sexy and heartwarming enemies to lovers story. J.S. Scott provided conflict, banter, romance, and heat. Ms. Scott continues to create sexy, alpha heroes and strong, intelligent heroines with complicated families. Fans of Kelly Elliott and Jessica Clare will enjoy Enamored.
Book Info:

Publication: October 15th 2019 | Montlake Romance | The Accidental Billionaires #3
ALL IT TAKES IS A LITTLE FRICTION TO TURN UP THE HEAT IN THE THIRD ACCIDENTAL BILLIONAIRES NOVEL BY 'NEW YORK TIMES' BEST SELLING AUTHOR J.S. SCOTT.
Like his brothers and sisters, Seth Sinclair went from blue-collar to billionaire overnight, and he's decided to invest in what he knows best: construction. There's only one thing in his way – the endangered birds nesting on a piece of prime beachfront real estate. And fighting for the birds is Riley Montgomery, a stubborn pain-in-the-ass, DROP-DEAD-GORGEOUS environmental lawyer. The worst part? Seth will do anything to keep her around – even if it means hiring her to be his fake girlfriend.
With a cause to fight for, Riley agrees to Seth's scheme. If she keeps the superficial women away from Seth, then he'll leave the wildlife sanctuary alone. But pretending to be his girlfriend with ground rules: No ass grabbing. And absolutely no sex. EVER. The problem? The sexual tension SIZZLES when they're together.
Seth isn't so keen on Riley's rules, but he'll keep his word, at least until SHE decides otherwise. But bringing Riley into his circle has brought her past back to haunt her in ways that neither of them expected. Now it's less about broken rules and more about broken hearts, and Seth will do whatever it takes to protect the woman he loves.
*This is the third book in 'The American Billionaires' series – Seth Sinclair's story.*