Enchanted by the Wolf by Michele Hauf: In order to help his pack gain hunting rights in the Faery realm,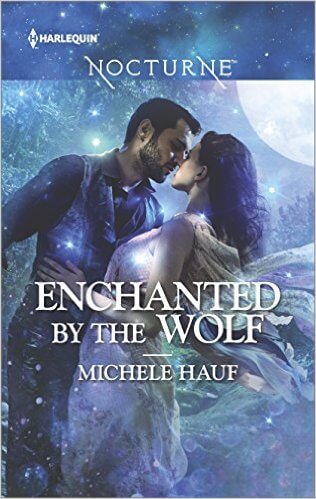 wolf shifter Kir agrees to marry one of the Unseelie King's daughters, Beatrice. Bea, for her part, only wants to get away from her father and her half-siblings who have always treated her as an unwanted outcast because she's only half-faery. She jumps at the chance to marry Kir, and tries to make the best of the situation.
Kir harbors a hatred for demons and vampires, especially since he believes his father left his mother for a demon. When he discovers that Bea could be half of either one, he's initially horrified. As he learns more about her, though, the more he's willing to put that aside. He even agrees to try to find a way to get into the demon realm to try to find the mother Bea had never met.
I liked Bea. Despite her family despising her, she's still open and caring. She's curious about the human realm, and she has fun experiencing it. Even when she's not accepted by the pack, she tries her best to keep the peace by pretending everything's fine because she doesn't Kir to be upset with his pack.
I also liked Kir and enjoyed watching him overcome his prejudices. He even went as far as to find out who was hurting the vampires, something he probably wouldn't have done if he hadn't married Bea.
One thing that I didn't like was how poorly Kir's mother treated Bea. Considering what we find out about her and what she did to Kir's father, she really didn't have room to judge Bea. What's worse, she does something that causes Kir and Bea to lose something valuable, yet Bea never told Kir the truth of what happened. On one hand, it says something about her character and her love of Kir since she didn't want him to know how truly awful his mother was, but on the other hand, he had a right to know.
This is the ninth story in this series, but it's also considered part of Michele's Beautiful Creatures series. In that series it's book #15. It can be read as a stand alone though, as the book mainly focuses on Kir and Bea's relationship. There are some characters from previous books that either make an appearance or are mentioned in this one, but it's done in a way that doesn't make you feel like you're missing information about them.
In Enchanted by the Wolf, Michele Hauf has crafted a well-written story that shows that you shouldn't judge someone based on what they are, but instead on who they are. If you enjoy paranormal stories, this is one worth checking out.
Book Info:

Publication: October 1, 2015 | Harlequin Nocturne | The Saint-Pierres #9
Kirnan Savauterre's loyalty to his werewolf pack is absolute–which is the only reason he agrees to an arranged marriage. But a marriage borne out of duty soon takes on a whole new spin. For Kir discovers his bride is an utterly enticing mystery. Beatrice is half-faery, maybe a little bit vampire, and altogether delightful. As for Bea, she has this much in common with her new husband: she can't resist the passion they share.
But a relationship that began as a political alliance is soon threatened by discord between the Unseelie court and the werewolves of Paris. And Kir's investigation into Bea's lineage reveals disturbing truths about what she is. Their love is strong–but so are the forces arrayed against them…