I Spy A Duke by Erica Monroe: In this brand new series from author Erica Monroe, love blossoms in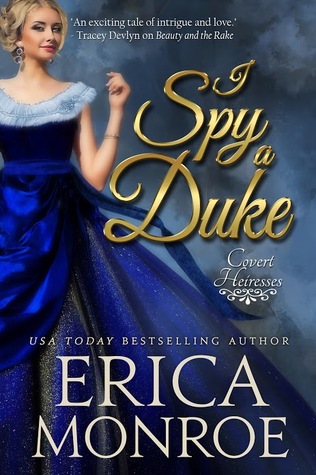 unexpected places as spymaster James uncovers the secrets of his brother's governess Vivian. Suspicious of her behaviour in his family's home, it doesn't take long for her to share with James that she's on a mission to track down her brother's killer, a mission that it turns out is in vain when she discovers that she's been coerced into spying on her employer for the perpetrator himself. With her life in danger, James' solution is simple – a marriage of convenience in which she'll get his protection and he'll have an excuse to attend London soirees on the arm of his wife, thus giving him a chance to tune his spymaster ears into the latest news while avoiding society matrons wanting them to wed their daughters. But with a killer after them, will the newlyweds find wedded bliss only to see it disappear?
This is a new style of historical romance story for this author, who has previously published the Rookery Rogues series (not yet finished) which showcased heroes and heroines from the poorer sides of London. That series is one of my favourites in the historical romance genre so I was eager to see what she could do with the spy theme, definitely a popular subgenre.
I found that this story was less intense than the other series but still an entertaining read. James and Vivian were both likable characters who've experienced the death of a family member under horrible circumstances. James' entire family is in the spy business, working for England to undermine Napoleon's rule and his sister Louisa met an untimely death on one of her forays. James' guilt over sending her out into the field has never left him, despite knowing that she was aware of the risks in her ventures, as any good spy is. As a result, when he first discovers that Vivian is being duplicitous and the reasons for it, his instinct is to come to her aid and the best way to do that, and solve his own marital problem is to offer her marriage. There is no doubt that they are attracted to each other (though they had both taken pains not to reveal this due to their positions) so they will be compatible that way.
Their romance is a slow burn, and it's not until the second half of the story, once they are married that the scenes between them get steamy. Vivian comes across as an empathetic character, a woman who deeply feels the loss of her brother and is desperate to find his killer. When she's offered the chance to spy on James' family in order to learn more about what happened to him, she feels caught between a rock and a hard place, but ultimately chooses her brother over any other loyalty. But when she is unable to discover the information that the man who first approached her wants, the threats turn ugly and turning to James is the only answer for her. Luckily, she finds in him the man who is the answer to her prayers – someone who will not only help her find her brother's killer, but also teach her how to defend herself, as now that she's marrying into a spy family, she is going to need to have those skills. And on top of that, she'll have a strong, supportive man in her life, one who quickly becomes dear to her. The second half of the story has most of the action and intensity, and builds up to the final conflict, but never fear, James and Vivian get their happy ending.
This story moves along smoothly at a good pace, and contained interesting characters, also introducing James' sisters who will have stories of their own in the series. I'm looking forward to the next one!
Book Info:

Publication: October 5, 2015 | Quillfire Publishing | Covert Heiresses #1
In the first in an adventurous new series, USA Today Bestselling Author Erica Monroe introduces the Covert Heiresses: four women who by day are the talk of the ton, and by night England's top spies.
She wants revenge…
When bluestocking Vivian Loren becomes the governess for the wealthy Spencer family, she's searching for clues about the murder of her brother, not a husband. But Vivian didn't count on James Spencer, the infuriatingly handsome Duke of Abermont.
He needs a wife…
As head of Britain's elite intelligence agency, James has no time to woo a wife. When he discovers Vivian's quest for answers has made her a pawn in a treacherous plot, James realizes they can help each other. She'll become his duchess, and he'll keep her safe from one of Napoleon's deadliest spies.
What begins as a marriage of convenience quickly becomes anything but, as they find out love is the most dangerous mission of all.